PORT-AU-PRINCE, Haiti: Within days, the government will move 400,000 people made homeless by Haiti's epic earthquake from their squalid improvised camps throughout the shattered capital to new resettlement areas on the outskirts, a top Haitian official said Thursday.
Authorities are worried about sanitation and disease outbreaks in makeshift settlements like the one on the city's central Champs de Mars plaza, said Fritz Longchamp, chief of staff to President Rene Preval.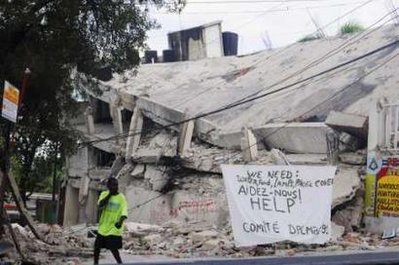 A Haitian man walks past a sign requesting help and supplies in Port-au-Prince January 19, 2010. [Agencies]
"The Champ de Mars is no place for 1,000 or 10,000 people," Longchamp told The Associated Press. "They are going to be going to places where they will have at least some adequate facilities."
He said buses would start moving people within a week to 10 days, once new camps are ready. Brazilian UN peacekeepers were already leveling land in the suburb of Croix des Bouquets for a new tent city, the Geneva-based intergovernmental International Organization for Migration reported Thursday.
The hundreds of thousands whose homes were destroyed in the January 12 quake had settled in more than 200 open spaces around the city, the lucky ones securing tents for their families, but most living under the tropical sun on blankets, on plastic sheets or under tarpaulins strung between tree limbs.
The announcement came as search-and-rescue teams packed their dogs and gear Thursday, with hopes almost gone of finding any more alive in the ruins. The focus shifted to keeping injured survivors alive, fending off epidemics and getting help to the hundreds of homeless still suffering.
"We're so, so hungry," said Felicie Colin, 77, lying outside the ruins of her Port-au-Prince nursing home with dozens of other elderly residents who have hardly eaten since the earthquake hit on January 12.
A melee erupted at one food distribution point as people broke into the storehouse and fought each other over the bags.
As aftershocks still shook the city, aid workers streamed into Haiti with water, food, drugs, latrines, clothing, trucks, construction equipment, telephones and tons of other supplies. The international Red Cross called it the greatest deployment of emergency responders in its 91-year history.
But the built-in bottlenecks of this desperately poor, underdeveloped nation and the sheer scale of the catastrophe still left many of the hundreds of thousands of victims without help. The US military reported a waiting list of 1,400 international relief flights seeking to land on Port-au-Prince's single runway, where 120 to 140 flights were arriving daily.
"They don't see any food and water coming to them, and they are frustrated," said Prime Minister Jean-Max Bellerive.
Four ships managed to dock at the capital's earthquake-damaged port, holding out the promise of a new avenue for getting aid to the city. But the going was slow since only one truck at a time could maneuver on the crack-riven pier.
The picture was especially grim at emergency medical centers, where shortages of surgeons, nurses, their tools and supplies have backed up critical cases.
"A large number of those coming here are having to have amputations, since their wounds are so infected," said Brynjulf Ystgaard, a Norwegian surgeon at a Red Cross field hospital.