Media speculation is on the up in the Republic of Korea (ROK) and Japan over whether Kim Jong-il, the leader of the Democratic People's Republic of Korea (DPRK), is likely to visit China soon.
China's Foreign Ministry spokeswoman Jiang Yu, however, did not confirm the visit when asked at a recent press briefing. "I haven't heard of any such news," she said.
Security has been tightened on the China-DPRK border, signaling that Kim's trip to the nation is likely sooner than later, media outlets in both the ROK and Japan said.
Special security has been arranged since Tuesday at Dandong, which borders the DPRK, to prepare for Kim's visit, the ROK's major newspaper, Chosun Ilbo, claimed yesterday.
The DPRK shut down a customs house in the northwest area bordering Dandong the same day, and policemen were sent to secure the rail link, Japanese newspaper Nihon Keizai Shimbun reported.
"It's the usual practice of the DPRK to keep its leader's visit a secret. The nation only makes it public when Kim is back," said Zhang Liangui, an expert on the DPRK at the Central Party School in Beijing.
"The speculation may very likely turn out to be true considering the DPRK's diplomatic direction in the past year," Zhang said.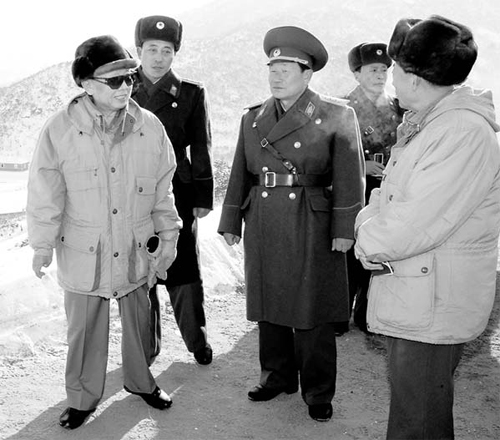 Kim Jong-il (left) visits the 105th tank division of the DPRK People's Army at an undisclosed site in this undated picture released by the country's offi cial news agency KCNA yesterday. Reuters
The DPRK's nuclear tests last year enraged the world, but the country made a diplomatic turnaround after that by trying to ease tensions with the US, ROK and Japan.
"The DPRK's aim is to establish normal relations with other countries under the condition that it be recognized as a nuclear power," Zhang said.
"It has already demonstrated its nuclear ability, and is now on a path to make friends," Zhang said. "The DPRK has a very clear diplomatic plan."
History of visits
After he became the leader of the DPRK, Kim has paid four unofficial visits to China in the past 10 years.
Kim's last two visits, in 2004 and 2006, led to a consensus between the two countries on proceeding with the Six-Party Talks and a peaceful solution to the Korean Peninsula nuclear issue.
Following Kim's visit to China in January 2001, the then Chinese president Jiang Zemin returned the courtesy by visiting Pyongyang the same year.
His trip to China in 2000 was soon followed by the first cross-border summit in Pyongyang between DPRK and ROK leaders.
If Kim were to come, "he will bring a big list asking for money, equipment and arms from China," Zhang said.
"The DPRK will put friendship as the most important topic on the negotiating table with China. That will make China feel embarrassed about urging it to denuclearize the Korean Peninsula," Zhang said.
(China Daily 01/07/2010 page11)