Year 2009 not only marked China's rise as a responsible interlocutor on major international issues, but also witnessed a growing clamor for learning Mandarin.
In the most recent such case, British Schools Secretary Ed Balls urged that children in the UK be allowed to study Mandarin under a government plan.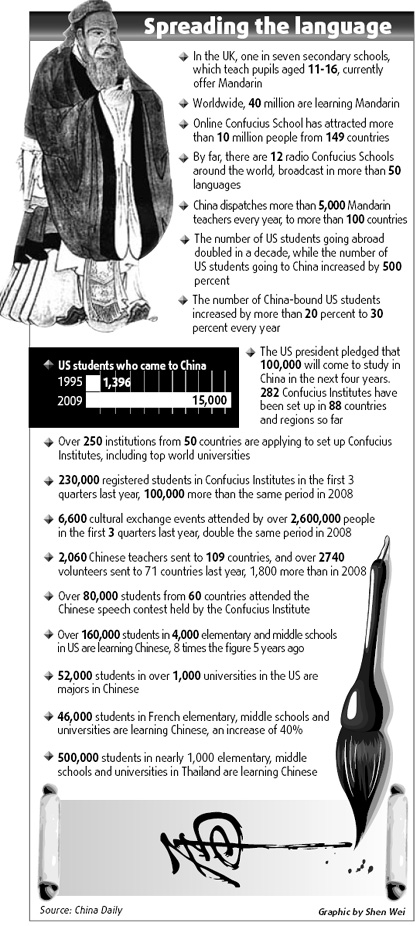 This was aimed at resurrecting foreign languages in British schools, and meeting skills for future business, AFP quoted the secretary as saying.
The schools secretary stressed that demand, especially business-oriented demand for "up and coming languages" such as Mandarin was increasing, and that pupils should be suitably equipped for the world of work.
In a year of financial turbulence, UK's push for Mandarin-learning looks meaningful in the context of its and other countries' strong business connections with China.
According to a recent survey by the Confederation of British Industry, more than a third of companies seeking staff with language skills wanted Mandarin speakers, followed by Spanish, Polish, Russian and Arabic.
Dmitry Ramazanov, a Beijing-based Russian business consultant, said one of the first rules of doing business successfully in China was to speak, read and write in Mandarin fluently.
"For me, the Chinese language is like Tie Fan Wan (iron rice bowl), which means a stable source of income," Ramazanov said.
"Nowadays, my company offers full services for Russian businessmen in China, including marketing research, pre-contract negotiations, inspection and transportation," he said. This is possible only if the person fully understands how to do it in Mandarin, he said.
The mounting demand for learning the language has led to the growth of Chinese language learning resources.
The publishing of Chinese textbooks for non-Chinese learners has seen tremendous growth in the past years.
Qi Dexiang, president and chief editor of Beijing Language and Culture University Press (BLCUP), said over 2,000 kinds of textbooks have been published since 1985, and the momentum is "strong".
"We have 230 to 250 new kinds of text books published each year of late, compared with just 50 or so before 2004," Qi said. "You can see the difference."
BLCUP is the largest publisher of Chinese language textbooks. The publishing house is developing multimedia teaching tools such as DVDs and software. In recent years, it has focused on providing tailored or customized learning material for different age groups and students in different countries.
"Children like multimedia teaching aids," said Qi. Teaching tools of this kind earned the publisher over 16 million yuan this year. "It's quite a lot," said Qi.
The publisher has launched an online store to further tap the language learning bonanza, said Tan Hao, deputy director of BLCUP's international marketing department.
Mandarin enthusiasts all over the world also injected some impetus to the growing trend of learning the language.
Related readings:


 New Concept Mandarin


 Eyeing China, Singapore sees Mandarin as its future


 Int'l students vie in mandarin contest


 Mandarin lessons 'help fight terror'

Foreign students are very interested in the Chinese language and culture, said Zhou Jie, who has been a volunteer Chinese teaching assistant in France for the last two years.
"French students say writing a Chinese character is just like drawing," Zhou said.
"Just like we Chinese learn English, the French students need their teachers to explain the grammar and meaning in their mother tongue," Zhou said.
A total of 282 Confucius Institutes and 272 Confucius Classes have been set up in 88 countries and regions. People can learn Mandarin and enjoy Chinese culture in these institutes.
More than 40 million people are learning Mandarin all over the globe, according to Hanban, a non-governmental organization promoting Mandarin worldwide.
Yet, as the demand for learning Mandarin keeps mounting, the supply of qualified teaching staff has fallen short.
"A growing number of schools are now teaching Mandarin and in the coming years I think we will see this subject sitting alongside French, Spanish and German as one of the most popular languages for young people to learn," the Telegraph quoted Ed Balls as saying.
The UK government concedes that Mandarin teachers cannot be employed in every school and suggested that pupils could be given tuition for specialist language schools nearby.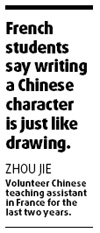 Over 250 institutions from 50 countries have applied for setting up Confucius Institutes, said Hanban's Director Xu Lin at a recent forum.
China dispatches more than 5,000 Mandarin teachers each year to more than 100 countries. Still, the teaching staff is insufficient to meet the huge demand.
In fact, many people are coming to China to study the language.
The US, for instance, has sent more students to China, with the number swelling to more than 15,000 people over the past 15 years, it was reported in the Shanghai-based Wen Huibao newspaper recently.
In 2008, China welcomed 200,000 such students from across the world, the newspaper reported.
Kong Lin, the head of the Confucius Institute, which promotes the language worldwide, said recently "the institute was a supermarket of cultures which needs to integrate all resources to meet the growing need of overseas learners of Chinese."