The Obama administration's counter-terrorism reforms will bring Beijing and Washington closer, as China is playing a bigger role in the global war against terrorists, Chinese experts have said.
US President Barack Obama was set to announce new measures Tuesday (local time 4 pm) to strengthen airline security after a botched Christmas Day bombing attempt on a passenger airline.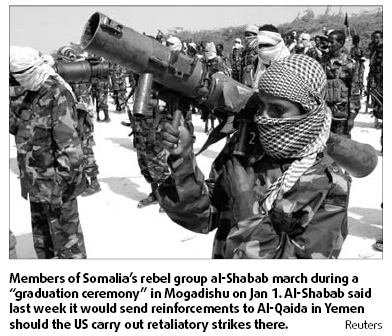 Amid growing criticism over his anti-terrorism strategies, both domestically and from US allies, Obama is expected to outline a series of changes in anti-terrorism programs.
This is likely to include a widening of the terrorism suspects' "watch-list" from the current half a million. Obama is expected to review this after he meets with intelligence chiefs and other top security advisers, the White House said.
The US Transportation Security Administration on Monday directed airlines to give full-body pat-downs to US-bound travelers from 14 countries, including Yemen, Nigeria, Saudi Arabia and Cuba.
If counter-terrorism becomes a hot-button issue of the Obama administration, then Washington will seek more help from Beijing to cope with many regional issues such as the war in Afghanistan, Yuan Peng, deputy director of the Institute of American Studies at the China Institutes of Contemporary International Relations, told China Daily yesterday.
Related readings:


 China flays US arms sale plan


 Better Sino-US cooperation expected in 2010


 China slams US duties on steel pipes


 US moves to place new duties on steel from China

"It will be good for Sino-US relations as the two sides need to work together more to face the common challenge from terrorism," he said.
The US Ambassador to China, Jon Huntsman, said last month in Beijing that China could offer Afghanistan and Pakistan "peaceful economic development," even as the US has been struggling in its war on terror in Afghanistan.
Earlier, both countries said in a joint statement that they "welcome any effort that helps achieve peace, stability, and development in South Asia", and they also agreed to "support anti-terror combat in Afghanistan and Pakistan."
China-US anti-terrorism cooperation began soon after the 9/11 incident, with information sharing on Al-Qaida and the Taliban. In 2002, the FBI set up an office in Beijing inside the US embassy.
The two sides also established anti-terrorism cooperation teams to supervise security work in various areas.
While China offered help in US' war in Afghanistan, the US also made efforts to crack down on the East Turkistan Islamic Party, one of the groups involved in terrorist activity in China.
The proposed arms sale to Taiwan and Obama's plan to meet the Dalai Lama early this year will, however, put pressure on anti-terror cooperation, Yuan said.
Since 2001, the US has successfully defended its security at home but failed to stop the development of terror groups in other countries, such as in Iraq, Yemen, Somalia and some North African countries, Chinese counter-terrorism expert Li Wei said. "Despite the US' huge investment in the anti-terror battle, terrorist forces are growing even stronger," he said.
Obama's new anti-terror strategies like strengthening international partnerships and amending the relationship with the Arab world, have seemingly failed so far, he said.
"No matter what Obama does to enhance the anti-terror system, it will be a very tough battle for a long time," he said.
Since terror is rooted in history, culture, ideology and religion, it cannot be won easily, Li said.
More countries will introduce tighter security at airports, he said, adding the key issue is resolving the imbalance in the security facilities among countries.