NEW YORK: Hundreds of thousands of revelers in chilly weather in Times Square cheered when an 11,875-pound (5,400-kilogram) crystal ball covered with more than 32,000 bulbs dropped at midnight, ushering in the new decade and ending 10 years marred by war, recession, terrorism and threats of environmental catastrophe.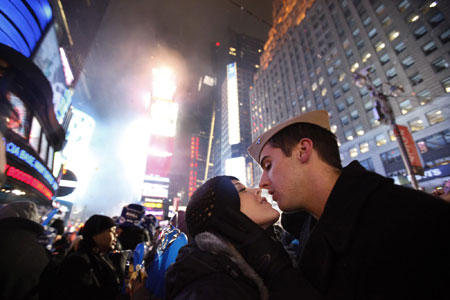 A couple kiss during New Year celebrations in New York's Times Square January 1, 2010. [Agencies]
Fireworks were set off and 3,000 pounds (1,360 kilograms) of confetti were scattered when the gigantic New Year's Eve ball dropped. Many people wore conical party hats and 2010 glasses that blinked colorfully, and some were jumping up and down to keep warm -- the National Weather Service said the temperature was be around freezing and predicted snow.
Cell phones were brought out to document the last few hours of a decade many wanted to leave behind. The crowds brought out heightened security. Hundreds of police officers were scattered around Times Square. Snipers were at various locations.
Fifty-eight-year-old Joao Lacerda of Brazil offered this wish after the ball dropped: "Much happiness and for the world, much peace."
From fireworks over Sydney's famous bridge to balloons sent aloft in Tokyo, revelers across the globe at least temporarily shelved worries about the future to bid farewell to "The Noughties" -- a bitter-tinged nickname for the first decade of the 21st century playing on a term for "zero" and evoking the word naughty.
Related readings:


 Jubilant Chinese greet New Year


 New Year's parties light up world


 Lunar eclipse on New Year's Day
Paris jazzed up the Eiffel Tower with a multicolored, disco-style light display as the world basked in New Year's festivities with hopes that 2010 and beyond will bring more peace and prosperity.
Las Vegas welcomed some 315,000 revelers with fireworks from casino rooftops, a traffic-free Las Vegas Strip and toasts at nightclubs from celebrities including actress Eva Longoria and rapper 50 Cent.
Even as some major stock market indexes rose in 2009, the financial downturn hit hard, sending many industrial economies into recession, tossing millions out of work and out of their homes as foreclosures rose dramatically in some countries.
"The year that is ending has been difficult for everybody. No continent, no country, no sector has been spared," French President Nicolas Sarkozy said on national TV in a New Year's Eve address. "Even if the tests are unfinished, 2010 will be a year of renewal," he added.
German Chancellor Angela Merkel warned her people that the start of the new decade won't herald immediate relief from the global economic ills. South Africa's president, Jacob Zuma, was more ebullient, saying the World Cup is set to make 2010 the country's most important year since the end of apartheid in 1994.
At midnight in Rio de Janeiro, about 2 million people gathered along the 2.5-mile (4 kilometer) Copacabana beach to watch a huge fireworks display and listen to dozens of music acts and DJs.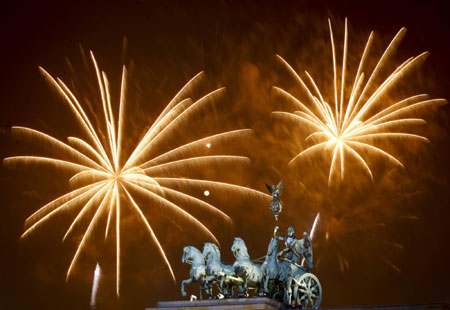 Fireworks explode above the Quadriga atop the Brandenburg Gate during New Year celebrations in Berlin January 1, 2010. [Agencies]
The multitudes came mostly dressed in traditional white clothing, a nod to the Afro-Brazilian religion of Candomble but a custom followed by nearly everyone as it is thought to bring peace and good luck for the coming year.
Officials said about 12,000 police were on duty during the New Year's Eve party in and around Copacabana to provide security.
Dressed in white and holding a glass of champagne in his hand, visitor Chad Bissonnette, 27, a nongovernmental group's director from Washington, D.C., said, "This year was the toughest I've experienced -- for the first time as an American I saw many friends lose jobs and businesses in my neighborhood close regularly."
In New York's Times Square, organizers mixed about 10,000 handwritten wishes into the confetti that was dropped over the crowds. They include appeals for the safe return of troops fighting overseas and continued employment.
Gail Guay, 50, of New Hampshire had this advice: "Don't look back."
Her friend Doreen O'Brien, 48, of New Hampshire, said that the crowd in Times Square seemed to be feeling positive on the cusp of a new decade. "People are in a great mood; it's very friendly. It's like New York has slowed down."
The hundreds of thousands of revelers in New York City brought out heightened police security, displayed a day earlier when police evacuated several blocks around Times Square to investigate a parked van without license plates. Only clothing and clothes racks were found inside.