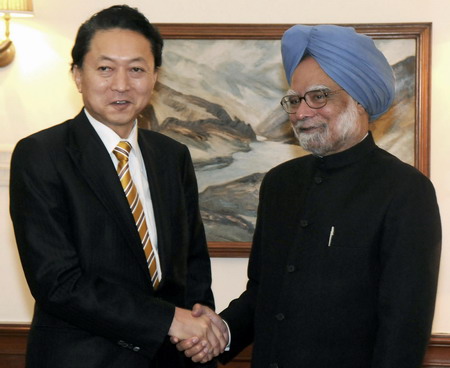 Japan's Prime Minister Yukio Hatoyama (L) shakes hands with his Indian counterpart Manmohan Singh before their meeting in New Delhi December 28, 2009. [Agencies]
NEW DELHI: Japan's new prime minister on Tuesday offered to consider selling nuclear power technology to India, but called on New Delhi to sign the nuclear test-ban treaty.
Energy-starved India is interested in wooing Japan's thriving nuclear power industry, but Tokyo has so far not allowed Japanese companies to do business in nuclear reactors and fuels until New Delhi agrees to stop conducting nuclear tests.
Japanese Prime Minister Yukio Hatoyama told reporters in the Indian capital that his government would examine the matter following assurances by Prime Minister Manmohan Singh that India would not divert any imports from Japan for weapons purposes or to third party countries.
Related readings:


 India tests ship-based short-range ballistic missile


 Russia to help India build 4 nuclear reactors


 India's PM in Russia on a shopping mission

 India IT firm TCS expects rapid growth in China


 India should seek cooperation, not challenges: Experts
"The two prime ministers shared the view that nuclear energy can play an important role as a safe, sustainable and nonpolluting source of energy in meeting the rising global energy demands," said a joint statement.
India has so far rejected the demand for signing the Comprehensive Test Ban Treaty, but a US nuclear accord with India last year reversed more than three decades of US policy barring the sale of nuclear fuel and technology to India since its first atomic test in 1974.
On Tuesday, Singh said he had explained to Hatoyama the circumstances in which India developed nuclear weapons, an apparent reference to nuclear-armed neighbors China and Pakistan.
Singh also stressed that India has unilaterally declared a moratorium on nuclear testing. Its last test was in 1998.
India currently has 17 civilian nuclear reactors. It gets just 3 percent of its energy from nuclear power. It plans to increase its nuclear capacity to 63,000 megawatts by 2030 from 4,120 megawatts today.
As a nation devastated by atomic bombs at the end of World War II, Japan is extremely sensitive to the nuclear issue and has been demanding a total elimination of nuclear weapons from the globe.
On Tuesday, the two countries also finalized an action plan with specific measures to advance security cooperation.
They agreed to increase information exchange and policy coordination on security issues in the Asia-Pacific region and hold annual meetings at the foreign and defense ministers' level and regular consultation between the national security advisers of the two countries, the joint statement said.
Bilateral talks also centered on the New Delhi-Mumbai Industrial Corridor, an area designed to be a manufacturing and technological hub for India, it said. Japan is participating in dozens of construction and other projects in the corridor, according to the Japanese Foreign Ministry.
Top Japanese companies have set up shop in India, including automakers Toyota Motor Corp., Honda Motor Co. and Suzuki Motor Corp. as well as Sony Corp. and electronics giant Panasonic Corp.