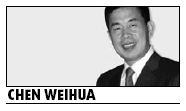 A friend of mine recently blogged about the inadequate compensation for her parents' three-story house soon to be demolished by a town government in Fujian province. Comments left by readers were mostly of scorn and outrage at the local government. Many suggest the author should fight for her parents' rights.
It is a fight not just for her retired parents, who built the house with their lifelong savings and whose son's livelihood depends on the street front business. It is also a fight for every Chinese who should learn how to defend themselves against violations of their rights.
Forced demolition, inadequate compensation and abuse of power by local government have become a major cause for social tensions between residents and local governments these days.
Several recent cases, such as a Chengdu resident who set herself ablaze early November in protest of forced demolition, have intensified the nagging decades-long issue. It has also prompted the State Council to assemble an urgent expert meeting on Dec 16 following a letter submitted by five Peking University's Law School professors, calling the current national urban demolition and management regulations "unconstitutional".
Had more people spoken up earlier and louder, a revision or an abolition of such an unfair regulation would have come years ago, and fewer human tragedies would have been inflicted.
I usually discourage the idea when being told how certain countries are interested in duplicating China's model of rapid growth in the last three decades.
It does not mean that these developing countries have nothing to learn from China's economic experiences, such as increasing foreign direct investment, introducing advanced technology, building an export-oriented economy and investing in infrastructure. However, the massive demolition of homes and businesses, which has paved way for the rapid growth, is simply a mission impossible for most countries, where the rights of land and home-owners are fully respected and protected under law.
The Big Dig project in Boston of the United States, for example, is probably the largest and most costly public works project in modern US history, lasting some 16 years and coming to an end only two years ago. Yet its "do-no-harm" approach means no homes or businesses paid the price for the massive construction.
Similar "Big Dig" projects in major Chinese cities, meanwhile, are usually conducted at a much faster speed with haphazard relocation of tens of thousands of homes and businesses.
Demolition at an ultrasonic speed has been a main feature ensuring the country's rapid growth in the past decades. And local government officials have become experts in this regard, with years of practice and serious malpractice.
No one has, in calculating the expenses of our urban and industrial projects, included the huge social costs borne by home and business owners being displaced. That kind of short change over the past decades should have amounted to an astronomical figure larger than the country's total foreign currency reserve.
Still this has not included the cost of psychological traumas experienced by those being displaced, especially senior citizens, who when moving to a new neighborhood are often associated with a loss of neighborliness and a gain of loneliness. Such irreplaceable means to achieve high economic growth should not be imitated by anyone.
Forced demolitions of homes and businesses continue to pose a threat to the country's social stability. Fortunately, the mounting protest from the general public, who are increasingly aware of their legal rights, could possibly put an end to the problem and an end to the model of boosting growth with ruthless demolition.
A slower growth would be desirable if it means more respect for people's rights. That is especially true when local governments are struggling to revive growth amid an economic downturn using whatever means possible.
I am glad that my friend has decided to fight for her parents' rights and not remain as a silent accomplice to such injustice.
E-mail: chenweihua@chinadaily.com.cn
(China Daily 12/29/2009 page8)