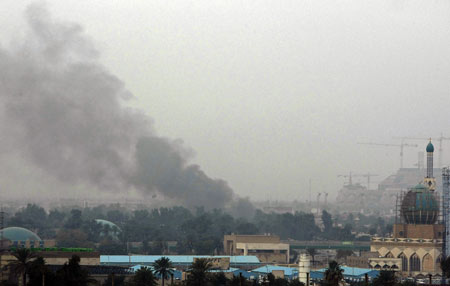 Death toll from a series of Baghdad bombings on Tuesday rises to 101 with 182 others injured, an Interior Ministry source said.[Xinhua]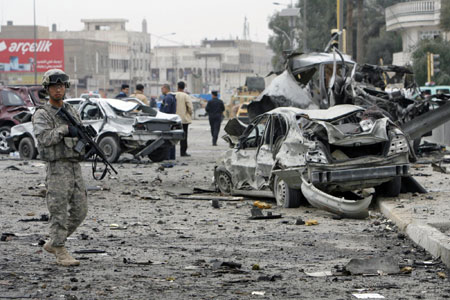 A US soldier stands guard near the wreckage of vehicles after a bomb attack in northern Baghdad, December 8, 2009. [Agencies] 
BAGHDAD: Death toll from a series of Baghdad bombings on Tuesday rose to 101 with 182 others injured, an Interior Ministry source said.
"The police reports officially compiled from Baghdad hospitals said that 101 people were killed and 182 others injured by four car bombings and a suicide bomb attack in the capital," the source told Xinhua on condition of anonymity.
Related readings:


 Bombings kill 46 people in 2 Pakistan cities


 Bombings target government in Baghdad, 147 killed


 Bus bombings south of Baghdad kill at least 11


 String of bombings kill 42 in Iraq


 51 people killed in bombings against Shiites in Iraq
The first explosion occurred at about 10:25 a.m. (0725 GMT) near the new building of the Ministry of Finance in downtown Baghdad, the source said.
Seconds later, a second blast hit the Ministry of Interior in eastern Baghdad, while the third car bombing struck the Institution of Fine Arts in Mansour neighborhood near Zawraa Park in western Baghdad.
After a minute, the fourth car bombing detonated near the Ministry of Labor and Social Affairs in northeastern Baghdad, the source said.
The four car bombings left a total of 86 people killed and 159 others injured, he said.
Earlier, the source said three car bombings hit the capital and put the toll at 62 killed and 105 others injured.
Meanwhile, death toll from the suicide bomb attack which struck a police patrol in the neighborhood of Doura in southern Baghdad earlier in the day, rose to 15 killed, including three policemen, and 23 people injured, the source said.
The attack also resulted in the destroying of two police vehicles and a civilian car, he added.
Despite the drop in violence in the last two years, recent series of attacks have raised concerns about the ability of Iraqi security forces to contain violence ahead of the country's national elections early next year.