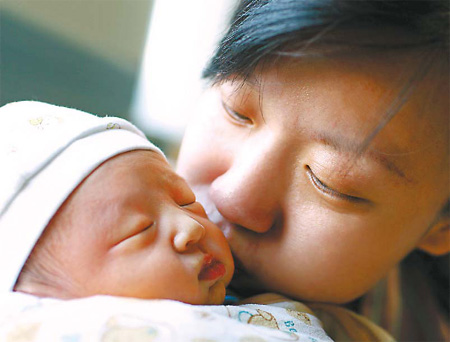 Xu Qing has her baby Qi Qi delivered at foreign-run Beijing United Family Hospital at a cost of 56,000 yuan, which is about 10 times the price for similar services at a public hospital. [File photo]
Xu Qing and Yu Bo Liang are among a growing number of couples in China's burgeoning middle class who are seeking medical treatment in foreign hospitals.
The couple had their baby Qi Qi delivered at the foreign-run United Family Hospital in Beijing.
In a recent report, Euromonitor International, the retail research group, said Chinese people were spending $92.9 billion on medical services and health goods, an 86 percent increase from the $50 billion spent in 2003.
There is also a boom in the building of foreign hospitals in China's major cities by leading players such as United Family Hospital, backed by US-based Chindex International, Singapore's Parkway Group Healthcare and Hong Kong-based Global Healthcare.
Xu, 29, better known by her English name, May Xu, said she opted to have her baby at Beijing United Family Hospital in Chaoyang District.
"I had my own personal obstetrics doctor throughout my pregnancy who got to know me personally over several visits," she said.
"At a public hospital, every appointment would have meant waiting in line for three hours, and you would have seen a different doctor each time."
Xu, who works in marketing, and her husband Yu, 41, an engineer, also didn't mind paying the 56,000 yuan cost of having a baby delivered at the private hospital, even though it was about 10 times the 5,000 yuan to 7,000 yuan cost at a State-owned hospital.
Related readings:


 Global warming also a health care factor


 WHO calls for women's health care reform


 Chinese Vice Premier urges health care reform


 China outlines plans on health care reform in 2009
By going private, the couple had to forgo having part of the cost reimbursed, which is available in State-run hospitals but not in the private healthcare sector.
"We didn't have any private medical insurance, so we had to pay the whole amount in cash," Xu said.
China represents a huge opportunity for the world's medical services industry, since the country has the potential to become the biggest market in the world from what until recently was a very low base.
The target group is the middle class. By 2017, China will have 50 million families whose annual income will range from $7,500 to $50,000, according to a MasterCard report.
China also ranks third among the world's countries in the number of families (417,000) with assets of more than $1 million, according to Boston Consultancy Group.
Roberta Lipson, who in 1997 founded China's first foreign-owned hospital, Beijing United Family Hospital, where Xu had her baby, said there is a major role to be played by the private sector in China's healthcare system.
She says the hospital was initially built to serve foreign expatriates, but it soon became clear there was a significant demand for private healthcare from the local population.
Local patients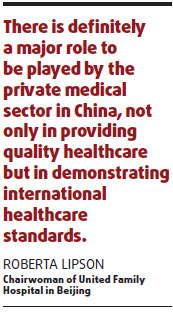 "When we first opened, the people who came were foreigners. We were actually quite surprised when the first local people started walking through the door, since China was at a very different level of economic development even 12 years ago," said Lipson, who is also the hospital's chairwoman.
"There is definitely a major role to be played by the private medical sector in China, not only in providing quality healthcare but in demonstrating international healthcare standards," she said.
There have been private hospitals in China for a number of years.
Far from being up-market, some serviced the needs of migrant workers or filled in gaps in the healthcare network in remote rural areas.
What paved the way for high-end foreign hospital investments was China joining the World Trade Organization in 2001.
This allowed international healthcare companies unlimited access to the China market, but only if they had a Chinese business partner.
In 2007, then Minister of Health Gao Qiang gave the green light to foreign hospital owners having a majority share in joint ventures, up to a maximum of 70 percent.