Warship and opera usually do not appear simultaneously at the same occasion, except at commercial blockbusters which are adept to deploy these two seemingly contradictory elements to highlight the intensity of the scene.
Yet Japan welcomed two keynote Chinese guests this month to these two distinct occasions.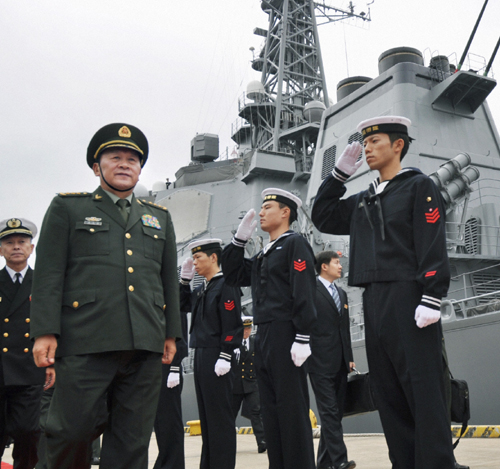 Chinese Defense Minister Liang Guanglie visits the destroyer Chokai on Monday. 
Chinese Defense Minister Liang Guanglie, who wrapped up his four-day Japan tour on Wednesday, was welcomed in a rare step on Monday to a Maritime Self-Defense Force destroyer Chokai equipped with the advanced and top-secret Aegis combat system.
Related readings:


 Thai PM meets Chinese defense minister


 Japan, China agree to defense exchanges


 Japanese PM, Chinese defense minister meet to enhance ties


 DPRK top leader meets visiting Chinese defense minister
Meanwhile, a Chinese performing troupe from the People's Liberation Army (PLA), with Peng Liyuan as art director, put on four performances of Mulan Psalm in Tokyo and Sapporo from Nov 11 to 20.
The facts that Peng is the wife of Chinese vice president Xi Jinping and the Japanese Crown Prince has watched the opera in person have made the performance headlines of the day.
However, analysts argued that the two visits have both shed lights on a warmer defense tie between China and Japan and will give a major lift to their defense reassurance, the weakest link in fragile China-Japan relations.
They also said that the visits will improve the two sides' political and economic cooperation. Such ties have been warmer with the new Democratic Party of Japan (DPJ) government, which has favored closer China relations since stepping to power.
The four-day visit by Liang featured the boarding of the warship, visiting of Japan Ground Self-Defense Force (JGSDF) Fuji School and Japan Airforce Self-Defense Force (JASDF) Ashiya Airbase, meeting with Japan's defense minister and prime minister and sealing a nine-item joint statement that includes a future joint exercise.
The Japanese media labeled Liang's Chokai visit as "unprecedented", saying that the visit underlines the DPJ's push for mutual cooperation instead of opposing China.
Transparency wanted
Japan wants more transparency from both countries in their defense exchanges, the Kyodo News quoted an anonymous Japanese defense officer as saying.
The school visits made by Liang have also indicated that the future defense cooperation between the two countries will be carried out at various sectors, including army, navy and air force, said the Japanese media.
The visit, first of its kind since the DPJ's election win in August, is remarkably different from previous ones, according to Chinese insiders.
Though Japan has always pushing for more bilateral defense exchanges, some agreements sealed in previous exchanges proved effortless under the previous rule of the Liberal and Democratic Party, as them might be negated by the United States, Japan's strong ally, a source close with the Chinese military told China Daily.
Yet the new DPJ administration is different, said the source who declined to reveal his name.
"The DPJ administration is more likely to be independent in their decisions and uphold what they have agreed," said the insider.
China and Japan have a relatively short history of defense exchanges. The past uneven political climate has often a cast shadow on defense ties, which stay as the touchstone of bilateral relations, according to Meng Xiangqing, professor with National Defense University.
When China's then-defense minister Chi Haotian visited Japan in 1998, the two sides mapped a blueprint for bilateral defense exchanges for the next 10 years. But that was totally ruined by the Yasukuni Shrine visit paid by former Japanese Prime Minister Junichiro Koizumi.
The high-level official visit remained rare until a restoration in 2007 brought by the visit of former defense minister Cao Gangchuan, following the icebreaking tours paid by bilateral leaders in 2006 and 2007.
"The (recent) visit by Liang has served as a milestone," said Meng.
The visit by Peng Liyuan, though not an official defense exchange program, has also served as a campaign to promote the softer and more diversified sides of the Chinese army to Japan, said experts.
Trade invites good relations
Analysts said vast economic interests are driving the restoration of the defense ties.
Bilateral trade is poised to hit $200 billion this year, a huge sum that need joint defense strength to ensure its security, Yet defense ties had fallen far behind the hot economic exchanges, and even the political climate, said Meng.
Also, the conflicts in maritime security, including the Diaoyu Island and the East China Sea oil and gas field, and also Japan and US attitudes toward Taiwan have all remained as lurking perils, said Yuan Yang, a senior research member of the Academy of Defense Sciences.
Those clashes, as proved previously, have more often than not ruined all the previous efforts made by high-level exchanges, said Yuan.
Experts called for a hotline similar to that between China and Russia to be set up to avoid clashes evolving into major political friction at times of crises.
Actually there have been in place of a maritime contact mechanism, and it seems that it had exerted much influence in quenching recent disputes.
Experts also said that Japan needs a mindset change in its wariness of the Chinese army's modernization drive if the two are to really advance in the field.
The way that Japan views the rise of Chinese military strength has long guided its China policy, as the country has orchestrated versions of China threats over the past years.
Yet the DPJ, following its overall change in foreign policy, is mulling a change in its defense policy too. Its National Defense Program Outline, which was scheduled to be issued this month, has been postponed to a year later.
The new outline will give us a clear insight into how the DPJ really perceives China after proclaiming its "return to Asia" policy, said experts.
(China Daily 12/04/2009 page11)