PERUGIA, Italy: A defense lawyer for an American student accused of killing her British roommate broke down after urging the court to give his client back her life. But a prosecutor called the accused a compressed spring that exploded the night of the murder.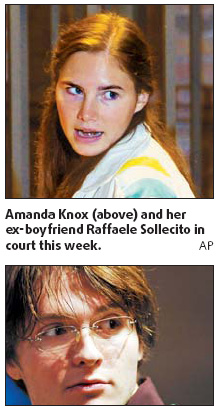 Amanda Knox and her former boyfriend Raffaele Sollecito are being tried in Perugia for the 2007 slaying of Meredith Kercher. They deny wrongdoing.
Sollecito told the jury late yesterday that he had no motive to help kill Knox's roommate, but a prosecutor countered that a motive isn't necessary for conviction and said there is a lot of unexplained violence these days.
Luciano Ghirga, one of Knox's defense lawyers, insisted in court that Knox was the victim of a "mechanism that crushed her."
"Amanda is asking to have her life back. Give Amanda her life back by clearing her of all charges," Ghirga said, raising his voice and fighting back tears at the end of his emotional three-hour concluding argument.
In his rebuttal, lead prosecutor Giuliano Mignini said Knox lashed out at Kercher on the night of the murder for having complained about her promiscuous behavior.
A verdict by the eight-member jury is expected by the end of the week.
Kercher's body was found Nov 2, 2007, in the apartment she shared with Knox. Prosecutors believe she was killed in a drug-fueled attack and was sexually assaulted. Knox and Sollecito are being tried on charges of murder and sexual violence. A third suspect Rudy Hermann Guede of Cote d'Ivoire, was sentenced to 30 years in jail last year in a separate trial.
Related readings:


 Family murder suspect brought back to city


 Maguindanao massacre suspect charged with multiple murder


 Abbot arrested for murder after 14 years


 US: Fort Hood suspect charged with murder
Ghirga challenged evidence in the case, including a knife that prosecutors say could be the murder weapon. The 16.5-cm blade that prosecutors say had Kercher's DNA on the blade and Knox's on the handle was found at Sollecito's house. According to Ghirga, wounds and cuts on the Briton's body indicate that a smaller knife might have been used in the attack.
He charged that prosecutors had changed their minds about the alleged motive: "Initially, it was a sexual motive, now it's hate. But that's just another non-existing motive."
In his closing remarks, Mignini has contended that Knox "harbored hatred" for Kercher and wanted to get back at her for saying she was unclean and promiscuous. Knox has denied having problems with Kercher and has said she was shocked by her friend's death.
Prosecutors requested life terms for Knox and Sollecito, who maintain they were at Sollecito's apartment the night of the slaying, watching a movie on his computer and smoking pot. Defense lawyers for Knox and Sollecito are working on the theory that Guede was the sole attacker. Guede is appealing his conviction.
Knox is also being tried on charges of defamation for allegedly accusing Diya "Patrick" Lumumba - a Congolese man who owns a pub in Perugia where she worked - of being the killer. Because of her accusation, Lumumba was briefly jailed. Police have denied misconduct.
AP