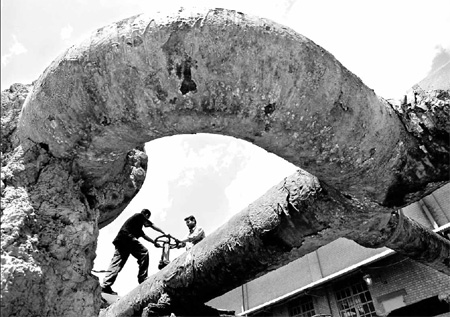 Kirkuk's rich oil fields are coveted by both the self-ruling Kurds and the Arab central government. [File Photo]

BAGHDAD: Iraqi politicians have been turning up their rhetoric over Kirkuk, the oil-rich city that both Kurds in the north and Arabs in the south want to control.
The dispute has caused a deadlock over the country's election law, threatening to delay Iraq's nationwide elections set for mid-January. Any vote setback could, in turn, disrupt US plans to withdraw troops from Iraq, scheduled to ramp up after the vote.
The Iraqi Independent High Electoral Commission has warned that today will be the last day for the lawmakers to agree on an election law.
Related readings:


 Iraq vote may be delayed, election head warns

 CNPC, British BP sign Iraq big oil deal


 Al-Qaida linked group claims Baghdad attacks


 Bombings target government in Baghdad, 147 killed


 US speeds Iraq withdrawal; 4,000 more headed home
Commission head Faraj al-Haidari told the parliament speaker late on Tuesday in writing that if the law is not approved by today's end, it will be impossible to carry out the vote on Jan 16.
"We are getting to a crisis," said Marina Ottoway, director of the Middle East Program at the Washington-based Carnegie Endowment for International Peace. "They have been trying for over a year to reach a compromise on Kirkuk."
"Now," she warns, "it is becoming a problem for the United States."
For years, tensions have simmered over Kirkuk and its surrounding province of about 1.3 million people, 290 km north of Baghdad. Boasting an ancient citadel, it is in many ways an ordinary, if somewhat shabby, Iraqi city.
But it sits on a political and cultural fault line among ethnic Kurds and smaller groups of Arabs and Turkomen, or ethnic Turks. Vast oil fields, dotted with flaming smoke stacks, lie just to the north and west, raising the stakes.
Displacement by Saddam
Kurds consider Kirkuk a Kurdish city and want it part of their self-ruled region. But during the rule of former dictator Saddam Hussein, tens of thousands of Kurds were displaced under a forced plan by Saddam to make Kirkuk predominantly Arab.
Regaining control of the city is thus extremely symbolic for Kurds and many Kurds have returned since the 2003 US-led invasion of Iraq. But other groups claim Kurds have packed more Kurds into the city than before.
The population breakdown remains in dispute but US officials estimated last spring that Kurds make up 52 percent of Kirkuk and its province, with Arabs at 35 percent and Turkomen about 12 percent.
The Arab-led central government in Baghdad vehemently opposes anything that would remove Kirkuk from its control. A referendum on the city's future - required by the Iraqi constitution - has been repeatedly postponed. The Turkomen have generally sided with Arabs, believing they'll be treated better than under the Kurds, a longtime enemy of their Turkish supporters.
The immediate dispute centers on voting rolls listing who can vote in Kirkuk in the January national election. While many proposals have been discussed, Kurds have favored using the 2009 voter registry, which likely reflects the Kurdish growth, while Arabs generally prefer the 2004 voter registry, when the Kurdish population wasn't so large. That has delayed the necessary deal on the election law.