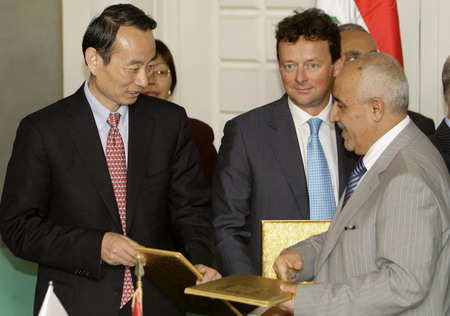 Dhia Jaafar, head of Southern Oil Company (R), exchanges agreement documents with Jiang Jiemin (L), Chairman and the General Manager of CNPC, during a contract-signing ceremony in Baghdad November 3, 2009. [Agencies]
BAGHDAD: China's CNPC and British oil major BP Plc on Tuesday signed Iraq's first major new oil deal since the 2003 US invasion, snapping up a development contract for the Rumaila oilfield, one of the world's biggest.
The 20-year contract for the southern oilfield is the first of several deals Iraq expects to sign in the coming weeks and months as it tries to catapult itself to third place from 11th in the league of oil-producing nations.
Related readings:

 CNPC charts big investment plan


 CNPC to invest 200b yuan in Xinjiang


 Talks not begun on Repsol arm buy, CNPC says

 CNPC oilfield sees year-on-year growth of 22%


 CNPC, BP in deal to develop Iraqi oilfield
The deals face risk since there is no guarantee the next government following an election in January will honour them, and Iraq is still wracked by political violence and bomb attacks by Sunni Islamist insurgents, such as al Qaeda.
As Iraq emerges from the sectarian carnage unleashed by the invasion, foreign capital and expertise is crucial to reviving the oil sector and raising the billions needed to rebuild.
The country holds the world's third largest crude reserves but has failed to ramp up production significantly after decades of war, sanctions and underinvestment.
"With these contracts Iraq has started a new phase. In the past, Iraq's oil was used to finance war, to kill Iraqis and to attack neighbouring countries," Oil Minister Hussain al-Shahristani said.
"A fortune was wasted and Iraq's oil was a disgrace to the lives of Iraqis ... This fortune will now fund reconstruction and rebuilding and improve the lives of all Iraqis."
Rumaila, with 17 billion barrels in estimated crude reserves, is the workhorse of Iraq's oil industry, producing almost half its total output of 2.5 million barrels per day. The field's reserves alone are bigger than Algeria's.
CNPC and its British partner BP expect to increase Rumaila's output to 2.85 million barrels per day.
Iraqi oil experts say they do not expect CNPC and BP to pump billions into Rumaila immediately, partly because of uncertainty over the outcome of parliamentary elections in January.
The contract allows them to start slow -- they must spend $300 million over the first 33 months and ramp up production by 10 percent initially.
That production increase can be easily achieved by repairs to the infrastructure and by going after "low-hanging fruit," said Mahmoud al-Jubouri, an oil expert with Iraq's South Oil Company, which has run Rumaila.
"They will try to reduce spending, fearing possible bad surprises in the future," he said.
Rumaila was the only one out of six oilfields and two gas fields on offer that was successfully auctioned off in Iraq's first tender of development contracts at the end of June.