BAGHDAD:The reconciliation in Iraq is pure Iraq's internal affair and the involvement of US officials is not desired by Iraqis, said Iraqi government spokesman Ali al-Dabbagh on Saturday.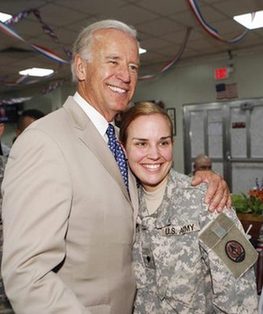 US Vice President Joe Biden poses for a photo with a US soldier at Camp Victory on the outskirts in Baghdad July 4, 2009. [Agencies] 

"The reconciliation issue is purely Iraqi affair and any non-Iraqi involvement would certainly have a negative impact," said Dabbagh.
He confirmed that Iraqi Prime Minister Nuri al-Maliki expressed the same meaning to the visiting US Vice President Joe Biden during their meeting on Friday.
Biden celebrated the July 4th, the Independence Day of the United States with US soldiers in Camp Victory outside the city of Baghdad on Saturday.
The US vice president arrived in Baghdad Thursday on a surprise visit and met with his chief commander in Iraq Gen. Ray Odierno and US ambassador to Iraq Christopher Hill, along with meeting top Iraqi officials, including Maliki, Vice President Adel Abdul Mahdi, a Shiite, and Vice President Tariq al-Hashimi, a Sunni Arab.
Biden urged Iraqi leaders to do more to bolster national reconciliation.
Biden also discussed the American mission, the security situation in Iraq and efforts to make more progress on reconciliation along with various outstanding political issues in the country during his visit.
The state-run newspaper Sabah quoted Arab diplomatic sources assaying that parties from Arab and United States are working to bring together representatives from Iraqi political factions at a reconciliation conference in Washington soon.
"A prominent Arab figure who previously worked in Iraq endeavors to ensure broader participation for Iraqi factions from inside and outside the political process to achieve reconciliation and national consensus," said the newspaper.