BAGHDAD:The reconciliation in Iraq is pure Iraq's internal affair and the involvement of US officials is not desired by Iraqis, said Iraqi government spokesman Ali al-Dabbagh on Saturday.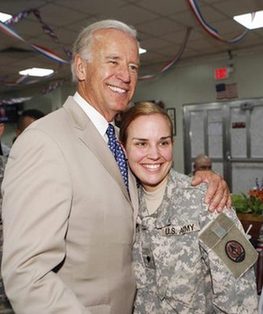 US Vice President Joe Biden poses for a photo with a US soldier at Camp Victory on the outskirts in Baghdad July 4, 2009. [Agencies] 

"The reconciliation issue is purely Iraqi affair and any non-Iraqi involvement would certainly have a negative impact," said Dabbagh.
He confirmed that Iraqi Prime Minister Nuri al-Maliki expressed the same meaning to the visiting US Vice President Joe Biden during their meeting on Friday.
Biden celebrated the July 4th, the Independence Day of the United States with US soldiers in Camp Victory outside the city of Baghdad on Saturday.
The US vice president arrived in Baghdad Thursday on a surprise visit and met with his chief commander in Iraq Gen. Ray Odierno and US ambassador to Iraq Christopher Hill, along with meeting top Iraqi officials, including Maliki, Vice President Adel Abdul Mahdi, a Shiite, and Vice President Tariq al-Hashimi, a Sunni Arab.
Biden urged Iraqi leaders to do more to bolster national reconciliation.
Biden also discussed the American mission, the security situation in Iraq and efforts to make more progress on reconciliation along with various outstanding political issues in the country during his visit.
The state-run newspaper Sabah quoted Arab diplomatic sources assaying that parties from Arab and United States are working to bring together representatives from Iraqi political factions at a reconciliation conference in Washington soon.
"A prominent Arab figure who previously worked in Iraq endeavors to ensure broader participation for Iraqi factions from inside and outside the political process to achieve reconciliation and national consensus," said the newspaper.
Related readings:


 Analysis: US role in Iraq doesn't end just yet


 4 US soldiers killed during Iraq cities pullout


 Iraq urges scientists to come home


 Iraq declares victory as US troops leave cities


 US hands over bases to Iraq ahead of pullout
Iraqi Prime Minister Maliki, a Shiite, launched his initiative of reconciliation shortly after he formed his cabinet in May 2006, but he has been criticized for failing to do enough to make use of security gains to achieve progress in overcoming differences between Shiites, Sunnis, Kurds and other factions.
Biden met with Maliki on Friday and warned him that although the US maintaining about 130,000 troops in Iraq, the time is running out and he (Maliki) has to move faster on national reconciliation efforts as the deadline for the departure of US combat troops is approaching.
After hours of closed-door meetings Friday, Biden made it clear to Iraqi leaders that his country would be unlikely to remain engaged in Iraq if the country reverted to sectarian violence, urging the Iraqis to rapidly make use of the political process to resolve their remaining differences.
Nevertheless, Biden told Iraqi leaders that he and US President Barack Obama are standing ready to help the political process in Iraq.
"The United States will continue to support the government of national unity and assist Iraq in the United Nations to get out of Chapter VII," Biden said, referring to UN sanctions imposed during Saddam Hussein's regime which was toppled in the 2003 invasion.
However, a statement by Maliki's office after his meeting with Biden confirmed that Maliki's government is committed to the national reconciliation process, but it also confirmed that the Saddam Hussein's Baath Party "is not meant by the process."
"Baath party is banned by the Iraqi constitution because it was the reason behind all devastation of Iraq," the statement said.
Biden, who expressed particular concern about the escalating tensions between Arabs and Kurds in northern Iraq, was obliged to cancel his scheduled fly to Arbil, the capital of the autonomous Kurdish region, on Saturday because of heavy sandstorm that blanketed Baghdad during the day.
Biden's trip to Iraq came just days after the June 30 deadline that witnessed the pullout of US troops from Iraqi cities and towns. The move was seen by Iraqis as landmark step that expected to be followed by a complete troops withdrawal from Iraq before January 1, 2012.
Maliki described US combat troops' pullout as a "great victory" this month and announced June 30 as a national holiday and named it the "day of national sovereignty."
Up to 500,000 Iraqi policemen and 250,000 soldiers are now in charge of security in the Iraqi cities and towns across the country, while some 130,000 US troops are stationing in militarybases outside the cities, keeping their role largely in training Iraq security forces and providing support if asked by the Iraqi government according to the security agreement signed late last year between Baghdad and Washington.