LOS ANGELES - The California State Board of Equalization Vice Chairwoman, Judy Chu, held a commanding lead in her bid for the 32nd US Congressional seat on Tuesday night, but failed to get the majority votes needed to avoid a runoff.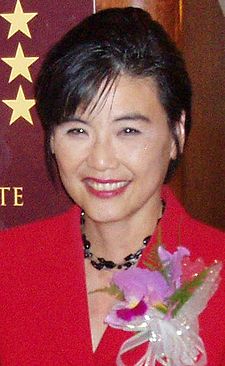 Judy Chu
Judy Chu easily defeated her challenger, California State Senator Gil Cedillo from the Democratic Party, with 14,310 votes. Cedillo won only 10,458 votes with 88.74 percent of precincts reporting. However, Chu's  32.49 percent victory is short of the more than 50 percent majority and a July 14 runoff is needed among the top vote-getters.
Thirteen candidates are bidding for the 32nd District Congressional seat, which was held by Hilda Solis until she was appointed US Labor Secretary by President Barack Obama.
Monterey Park Councilwoman Betty Chu was the top vote-getter among the Republicans with 4,483 votes. Businessman Christopher M. Agrella is the only candidate from the Libertarian party who is automatically qualified for the runoff.
Since Agrella only got 1.15 percent of the votes, the runoff battle will mainly be between the two Chinese American women, who coincidentally have the same surname.
It is widely expected that Judy Chu will easily win in the runoff  since she won 32.49 percent of the votes in Tuesday's election, while her competitor Betty Chu got only 10.18 percent.
Related readings:


 Steven Chu said picked for energy post


 Obama picks Gary Locke as commerce chief


 Locke approved as US commerce secretary


 Chu heralds change

 Elaine Chao shares childhood memories with netizens
Judy Chu was born in Los Angeles, and her father was also born in the US, but her mother comes from south China's Guangdong Province. Judy Chu has visited China several times. Her husband Mike Eng is a member of the California Assembly.
Judy Chu told Xinhua that as a Chinese American, she was very proud of her background and honored if she could become the first Chinese American woman in the US Congress.
Asked whether her background as a Chinese American congresswoman will be a plus in promoting relations between the United States and China, Judy Chu said: "What I want to do is for world peace basically and for a better world economy. I definitely want to be a person with a lot of input in this field."
She said she knows a lot of people from Asia or immigrated from Asia and definitely has the right resources to get the best advice possible to do her job well in the US Congress.
Judy Chu said her background would make her unique as a representative  in Congress of Asians, Hispanics and other minorities. "It is always good to have diversity with people who are making decisions. If you have more input, you could make better decisions," she said.
Judy Chu has dedicated 23 years to improving the quality of life in the San Gabriel Valley, California which has a large population of Chinese Americans.
She was first elected Garvey School District Board member in 1985 and a city council member of Monterey Park in 1988. She has served three terms as mayor of that city.
In 2001, Judy Chu stood for a seat in the California State Assembly and won. In 2006 she was elected as a member of the California State Board of Equalization, which is the only elected tax authority in the US.
Judy Chu has successfully won nine contests in the past in her bid for public offices and hoped the Congress bid would be the 10th. "In Chinese, to win 10 times is considered a perfect victory. I hope to win a perfect victory with the support of our voters," she said.
The 32nd Congressional District has a large population of Hispanics and Asians. To win, it is important to gain the support of the Hispanic voters. Judy Chu has the support of the California Teachers Association, the National Organization for Women, the United Farm Workers of American and other organizations. She is also the only candidate who has the endorsement of the California Democratic Party.
Judy Chu holds a PhD in psychology from the California School of Professional Psychology, and taught at the East Los Angeles Community College for 13 years.
She said she knows the people of California, and the whole country is concerned about job security and the bad economy. She promised to bring 21st century "green collar" jobs to her district, including jobs in conservation, public transit, biotech and alternative energy.
On healthcare, she said she will fight for access and expansion of affordable and quality healthcare for low-income families, senior citizens and the disabled.
Judy Chu also promised to work to complete long-stalled improvements to the area's freeway infrastructure, including upgrading the dangerous and inefficient 10 and 605 freeway interchanges.
She said to truly alleviate the congestion plaguing the freeways, projects like the Foothill Gold Line Extension must be completed not only to Azusa , but all the way to its planned terminus in Montclair and beyond.
On education, Judy Chu said she will continue to fight to expand educational opportunities for all Americans and reform the No Child Left Behind program.
She also promised to fight to protect the environment by supporting the clean-up efforts of local water and air resources.