NEW YORK – US investors are back to worrying about banks.
Related readings:


Citigroup 1Q results top forecasts


Obama: US economy shows glimmers of hope


US economy shrinks at 3.8% pace in fourth quarter 2008


Wall Street cheers on bank aid plan
Long-present unease about soured loans bubbled over on Monday after Bank of America Corp. said it set aside $13.4 billion to cover lending losses, even as it posted a profit for the first quarter, and as anxiety grew about the results of the government's "stress tests" to determine if banks will need more government bailout money.
While Bank of America and other big banks like Citigroup Inc. have fared better so far this year than many believed they would, nervousness is growing now over the massive losses from defaulting loans that are yet to come. On Sunday, White House chief of staff Rahm Emanuel said some banks will need help.
Financial stocks suffered some of the day's worst declines: Bank of America plunged 24.3 percent and Citigroup fell 19 percent. Those two components of the Dow Jones industrial average contributed to a daily loss in the index of 290 points, or 3.6 percent. That was the biggest Dow drop since early March, before the market's big rally from nearly 12-year lows.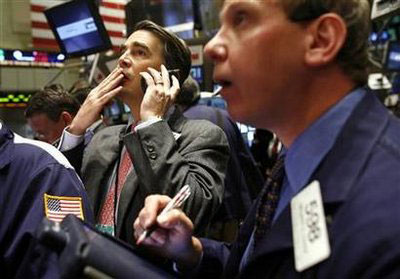 Traders work on the floor of the New York Stock Exchange April 20, 2009. [Agencies] 
Joe Saluzzi, co-head of equity trading at Themis Trading LLC, said traders are skeptical about bank earnings and believe the better-than-expected profit reports may be disguising problems.
"They're looking at bank numbers and are saying they are not that great," Saluzzi said.
Traders have been looking for some pullback ever since the Dow jumped 24 percent from its early March lows. But that pullback could end up being more significant than a mere correction if the market cannot shake its concerns about banks. With the stress test results expected in early May, the market is likely to see more volatility.
Worries about banks' debt problems were aggravated by news reports that their lending remains tight and that the US government may swap its debt in banks for ownership stakes as its $700 billion bailout fund runs down.