NEW YORK – Citigroup's problems are far from over, but Friday it reported its smallest quarterly loss since 2007.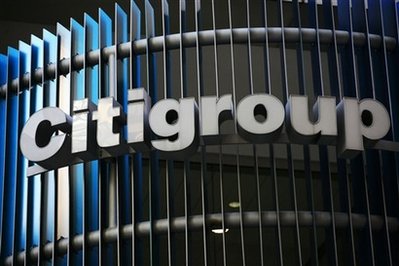 A sign at the Citigroup Center is shown Thursday, April 16, 2009 in New York. Citigroup Inc. posted better-than-expected results for first quarter.reports earnings Friday, April 17. [Agencies] 
The bank posted a first-quarter loss to common shareholders of $966 million after massive loan losses and dividends to preferred stockholders. However, before paying those dividends, tied to a private stock offering in January 2008, the bank earned $1.6 billion.
Related readings:


 Citigroup execs make $2.2m betting on own stock


 US weighs further steps for Citigroup


 Citigroup reaches aid deal with government


 Citigroup plans to sell Japanese brokerage unit: report
Citigroup's results topped analyst forecasts. The company reported a loss per share of 18 cents, which was narrower than the 34 cents analysts predicted, according to Thomson Reuters. A year ago, Citigroup suffered a loss of more than $5 billion, or $1.03 a share.
Shares rose 6 cents, or 1.5 percent, to $4.07 in morning trading.
Separately, Citigroup said Friday it is delaying the government's exchange of billions of dollars worth of preferred shares into common shares until the government completes its "stress test." The government has been gauging the health of US banks, and the results are expected in early May.
Citigroup's revenue doubled in the first quarter from a year ago to $24.8 billion thanks to strong trading activity in its investment bank. Its credit costs were high, though - at $10 billion - due to $7.3 billion in loan losses and a $2.7 billion increase in reserves for future loan losses.
Citigroup has been the weakest of the large US banks, posting quarterly losses since the fourth quarter of 2007. But in March, CEO Vikram Pandit triggered a stock market rally after he said that January and February had been profitable for Citigroup.
It was one of the first signals that the banking industry might not be as sick as many believed. Earlier that month, fears that banks would need to be nationalized sent stocks plunging to 12-year lows.
Citigroup's better-than-expected report on Friday come after surprisingly solid earnings from JPMorgan Chase & Co., Goldman Sachs Group Inc., and Wells Fargo & Co. over the past several days. While recent results from these healthier banks have brought some relief to investors, many have been waiting to see how more troubled banks such as Citigroup have fared.
Pandit said in a statement Friday that he was "pleased" with Citigroup's performance.
"While we and the industry face challenges in the coming quarters as we work through the weak economy, we will remain focused on strengthening the Citi franchise," he said.