CRAWFORD – The US on Saturday blamed the militant group Hamas for breaking a cease-fire and attacking Israel, which retaliated with strikes of its own during what became the single bloodiest day of fighting in years.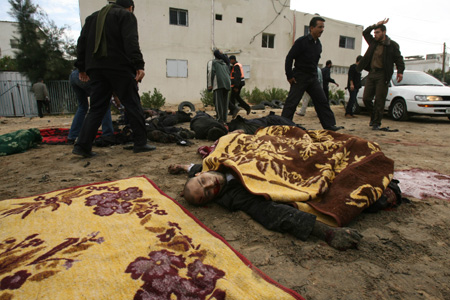 Bodies of Palestinian Hamas policemen are scattered on the ground following an Israeli air strike in Gaza City on December 27, 2008. [Xinhua]
The White House called for the cease-fire to be restored, yet there were few indications that the violence, which has left more than 200 people dead and nearly another 400 wounded, was waning. Israeli Defense Minister Ehud Barak warned that the operation in Gaza would widen if necessary.
It was "completely unacceptable" for Hamas, which controls Gaza, to launch attacks on Israel after a truce lasting several months, said Gordon Johndroe, a spokesman for the National Security Council.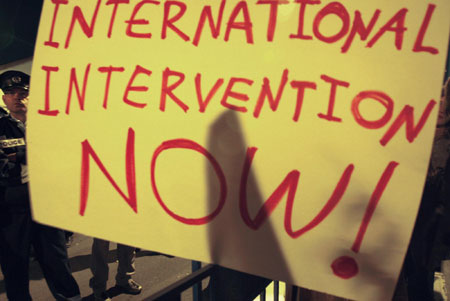 An Israeli police officer stands guard during a protest held by left-wing activists in Tel Aviv against the Israeli air strikes in Gaza December 27, 2008. Israeli warplanes and helicopters pounded the Hamas-ruled Gaza Strip on Saturday, killing more than 227 people in one of the bloodiest days for the Palestinians in 60 years of conflict with the Jewish state. [Agencies]
"These people are nothing but thugs, so Israel is going to defend its people against terrorists like Hamas that indiscriminately kill their own people," Johndroe said in Texas as President George W. Bush was spending the week before New Year's at his ranch here. "They need to stop. We have said in the past that they have a choice to make. You can't have one foot in politics and one foot in terror."
US President-elect Barack Obama was receiving an intelligence briefing on Saturday from various security agencies, Johndroe said. Bush has spoken to regional leaders and the administration will remain in close contact, he said.
Related readings:


Defence Minister: Israel 'cannot accept' ceasefire with Hamas


Barak: Hamas will pay "heavy price"


Israel attacks Gaza, over 140 killed


Ceasefire over, Hamas ready for fight
Obama also spoke during the day with Secretary of State Condoleezza Rice, who was keeping Bush abreast of the situation.
Brooke Anderson, Obama's national security spokeswoman, said Saturday that Obama "is closely monitoring global events, including the situation in Gaza, but there is one president at a time."
As Israel bombed Gaza, defiant Hamas leaders threatened revenge. Hamas "will continue the resistance until the last drop of blood," vowed spokesman Fawzi Barhoum.
Moderate Palestinian President Mahmoud Abbas, who controls the West Bank, condemned Israel. Egypt summoned the Israeli ambassador to express condemnation and opened its border with Gaza to allow ambulances to drive out some of the wounded.