WASHINGTON - Israel "cannot really accept" a ceasefire with Hamas, Israeli Defense Minister Ehud Barak said in a US television interview on Saturday, rejecting calls by the United Nations and the European Union for a truce after Israeli air strikes killed at least 230 people in Gaza.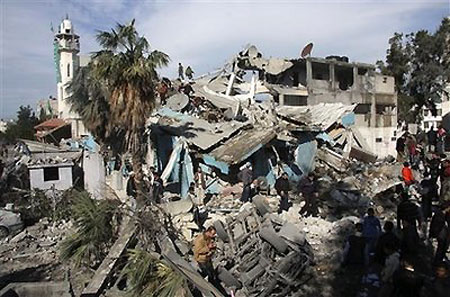 Palestinians stand on the rubble of a building used by the security forces of Hamas at the site of an Israeli missile strike at the security headquarters in Gaza City, Saturday, December 27, 2008. Israeli warplanes retaliating for rocket fire from the Gaza Strip pounded dozens of security compounds across the Hamas-ruled territory in unprecedented waves of air strikes Saturday, killing more than 230 people and wounding nearly 400 in the single bloodiest day of fighting in years. [Agencies] Israeli assault on Gaza kills over 200
"For us to be asked to have a ceasefire with Hamas is like asking you to have a ceasefire with al Qaeda. It's something we cannot really accept," Barak told Fox News from Tel Aviv.
Related readings:


Israeli assault on Gaza kills over 200


Israel attacks Gaza


Hamas formally ends truce in Gaza
He said the Israeli attacks would continue as long as necessary until Hamas militants were ready to "change their behavior."
"This will not be a short operation. The war on terrorism is an ongoing one, and we will have to stand firm in order to change the situation in the south," Barak said Saturday. An Egypt-brokered cease-fire between Hamas and Israel expired December 19.
Barak told CNN that Israel was compelled to respond with force after evacuating Gaza three years ago "to the last square inch" only to face continuous attacks.
"We have to experience shelling and rocket attacks on innocent civilians, that's something we will not accept," he told CNN. "I am confident that the American government would not have waited one day before they would have responded if San Diego would have been bombed or shelled or rocketed from Tijuana (Mexico) with thousands of rockets."