GAZA CITY – Israeli warplanes rained more than 100 tons of bombs on security installations in Hamas-ruled Gaza on Saturday, killing at least 270 people in one of the bloodiest days in decades of the mideast conflict.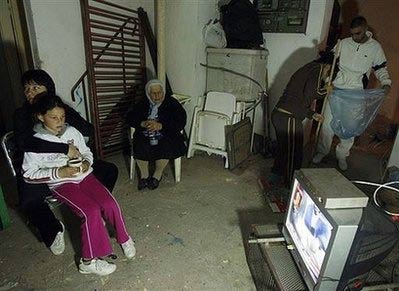 Israeli residents of the southern town of Netivot watch the news as they take shelter in a fortified basement of a building that was hit by a rocket launched from the nearby Gaza Strip. [Agencies]

The government said the open-ended campaign was aimed at stopping rocket and mortar attacks that have traumatized southern Israel.
More than 600 people were also wounded. Most of the casualties were security forces, but Palestinian officials said at least 15 civilians were among the dead.
Related readings:


Israel attacks Gaza, over 140 killed


Israel set for Gaza invasion


Israeli strike kills Gaza militant


Ceasefire in Gaza over, Hamas ready for fight
The unprecedented assault sparked protests and condemnations throughout the Arab world, and many of Israel's Western allies urged restraint, though the US blamed Hamas for the fighting.
But there was no end in sight. Israel warned it might go after Hamas' leaders, and militants kept pelting Israel with rockets, killing at least one Israeli and wounding six.
Hundreds of Israeli infantry and armored corps troops headed for the Gaza border in preparation for a possible ground invasion, military officials said, speaking on condition of anonymity under army guidelines.
Prime Minister Ehud Olmert said the goal was "to bring about a fundamental improvement in the security situation of the residents of the southern part of the country." He added, "It could take some time."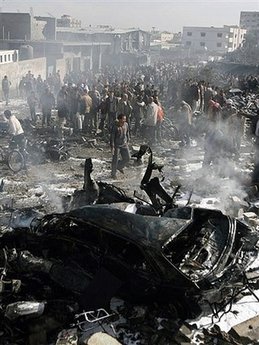 Palestinians inspect the site of an Israeli air strike in the southern town of Rafah. [Agencies]
The Israeli airstrikes caused widespread panic and confusion, and black plumes of smoke billowed above the territory, ruled by Hamas for the past 18 months. Some of the Israeli missiles struck in densely populated areas as students were leaving school, and women rushed into the streets frantically looking for their children.
"My son is gone, my son is gone," wailed Said Masri, a 57-year-old shopkeeper, as he sat in the middle of a Gaza City street, slapping his face and covering his head with dust from a bombed-out security compound nearby.
He said he had sent his 9-year-old son out to purchase cigarettes minutes before the airstrikes began and could not find him. "May I burn like the cigarettes, may Israel burn," Masri moaned.
Militants often operate against Israel from civilian areas. Late Saturday, thousands of Gazans received Arabic-language cell-phone messages from the Israeli military, urging them to leave homes where militants might have stashed weapons.
The offensive began eight days after a six-month truce between Israel and the militants expired. The Israeli army says Palestinian militants have fired some 300 rockets and mortars at Israeli targets over the past week, and 10 times that number over the past year.
"There is a time for calm and there is a time for fighting, and now is the time for fighting," said Israeli Defense Minister Ehud Barak, vowing to expand the operation if necessary.
In Gaza City's main security compound, bodies of more than a dozen uniformed Hamas police lay on the ground. Civilians rushed wounded people in cars and vans to hospitals because there weren't enough ambulances to transport all the dead and wounded.