WASHINGTON – New claims for unemployment benefits reached their highest level in 26 years last week, as companies cut workers at a rapid pace.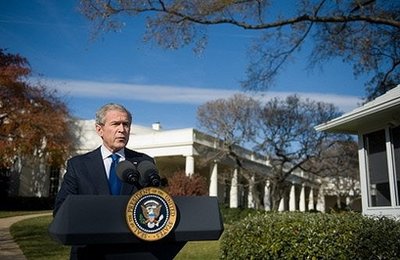 US President George W. Bush, seen here on the South Lawn of the White House, acknowledged for the first time that the US economy is in a recession after the release of official data showing the worst monthly job losses since 1974. [Agencies]
The Labor Department reported Thursday that initial applications for jobless benefits in the week ending Dec. 6 rose to a seasonally adjusted 573,000 from an upwardly revised figure of 515,000 in the previous week. That was far more than the 525,000 claims Wall Street economists expected.
It is also the highest reading since November 1982, though the labor force has grown by about half since then.
The jump is partly due to a rebound in claims from the previous week, which included the Thanksgiving holiday, a Labor Department analyst said. Government offices were open for fewer days that week.
Still, the four-week average, which smooths out fluctuations, was a seasonally-adjusted 540,500, the highest since December 1982, when the economy was emerging from a steep recession.
The number of people continuing to claim jobless benefits also jumped much more than expected, increasing by 338,000 to 4.4 million. Economists expected a small increase to 4.1 million. The figure for continuing claims lags the initial claims figure by one week.
As a proportion of the work force, the number of people continuing to receive benefits is the highest since August 1992, when the U.S. was recovering from a relatively mild recession.
The increase in continuing claims was the largest jump since November 1974, the department said.
Economists consider jobless claims a timely, if volatile, indicator of the health of the labor markets and broader economy. Last year, initial claims were 337,000.
The economy has been hit hard by the ongoing housing slump and financial crisis, which have sharply reduced household wealth as stock prices and home values have declined. Consumers and businesses have dramatically cut back their spending. The National Bureau of Economic Research said this month that the economy fell into a recession in December 2007.
The Labor Department said last week that employers cut a net total of 533,000 jobs in November and the unemployment rate reached 6.7 percent, a 15-year high.
A number of large U.S. employers announced layoffs this week, including Dow Chemical Co., 3M Co., Anheuser-Busch InBev, National Public Radio and the National Football League.