WASHINGTON - US unemployment rate rose to a five-year high of 6.1 percent in August as fears of a recession have grown, the Labor Department reported Friday.
Employers cut their payrolls by 84,000 in July, the eighth straight month of nationwide job losses. June and July were revised to show deeper decline.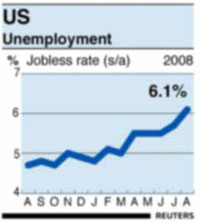 The economy shed 100,000 jobs in June and 60,000 in July, compared with a prior estimate of job losses of just 51,000 in each of the two months.
Economists had expected a 75,000 decline in payrolls in August.
"Employment fell in manufacturing and employment services," said the report, noting "mining and health care continued to add jobs" last month.
The report said hiring last month in goods-producing industries fell by 57,000. Within this group, manufacturing firms shed 61,000 jobs. Construction employment was down by 8,000 jobs.
Service-sector employment fell 27,000 jobs last month. Professional and business services lost 53,000 jobs. Education and health care employment grew by 55,000 jobs. Government added 17,000 jobs.
Workers' wages, however, grew at a modest pace in July.
Their average hourly earnings rose by 0.4 percent to 18.14 dollars, in line with economists' expectations. Over the last 12 months, wages increased by 3.6 percent.
The health of the job market is critical for the overall economy to grow. The big worry is that companies, affected by a severe housing slump and a credit crisis, might cut back on hiring further.