WASHINGTON -- Liberal and Democrat vs. conservative and Republican. Taller, younger and black vs. shorter, older and white. It was a night of contrasts as Barack Obama and John McCain shared a stage in their first of three presidential debates.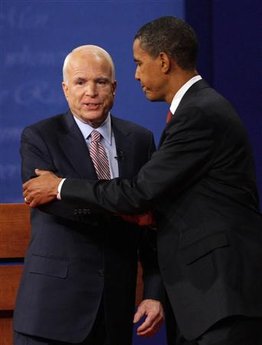 Republican presidential nominee Senator John McCain (L) and Democratic presidential nominee Senator Barack Obama shake hands after the first US presidential debate at the University of Mississippi in Oxford, Mississippi, September 26, 2008. [Agencies]
The only similarities: a lack of specifics, campaign-trail sound bites and an inability to answer a question directly.
Appearances were striking from the time the two walked onto the stage at the University of Mississippi in Oxford.
Obama, age 47, 6-foot-1 and black, glided; McCain, age 72, 5-foot-9 and white moved briskly. The rivals quickly shook hands and took their positions behind a pair of podiums.
As the debate opened, moderator Jim Lehrer prodded the two to directly engage with each other and encouraged skirmishing. This was, after all, the first time each was able to answer the other's months of criticisms directly.
It took a few questions, but then the charges and counter charges came easily to both. The back-and-forth gained intensity throughout the 90-minute debate, though civility was never lost.
Both landed their punches and stuck to their playbooks.
McCain repeatedly found new ways to label his rival a liberal, while Obama kept calling McCain an extension of George W. Bush.
At one point, the Republican accused Obama of compiling "the most liberal voting record in the United States Senate." Obama shot back: "Mostly that's just me opposing George Bush's wrong-headed policies."
Both were playing their own games; neither was outside of their comfort zones. Each talked in sound bites and repeated phrases he makes repeatedly on the campaign trail. It was, however, the first time many of the tens of millions of TV viewers had heard the lines.
Related readings:


 Obama, McCain say Congress must pass bailout plan


 McCain to attend debate even without bailout deal


 Bush, McCain, Obama have historic West Wing huddle


 Dems, some in GOP question McCain's intervention
Twice, the candidates were prodded to ask whether they would support the financial bailout being debated in Washington and whether it would cause them to revamp their proposals.
This debate, primarily focused on foreign policy, was supposed to be McCain's sweet spot; Obama held his own.
"You were wrong" on Iraq, Obama repeated three times in succession as he pointedly looked his opponent in the eye. "John, you like to pretend the war began in 2007."
McCain replied that Obama has refused to acknowledge the success of the troop buildup in Iraq, backed by Bush and McCain himself. "Senator Obama after promising not to vote to cut off funding to the troops did an incredible thing" and voted against the funding, McCain said.
At times, both struggled to keep their composure, and their dislike for one another showed through.
When Obama assailed McCain's tax proposals and accused him of wanting to give another $4 billion in tax breaks to oil companies, McCain smiled tightly, chuckled and said: "With all due respect, you already gave them to the oil companies."
And, as McCain criticized Obama's position on last year's troop increase strategy in Iraq, Obama smirked, pursed his lips and muttered repeatedly: "That's not true."
McCain poked fun at his age; he'd be the oldest first term elected president. He said the financial crisis was the greatest in "our time", and added: "I've been around a little while." At another point, after Obama repeated a comment: "Were you afraid I couldn't hear you?"
He also frequently provided a history lesson, talking of Gen. Dwight D. Eisenhower before the D-Day invasion, President Reagan's decision in the 1980s to keep troops in Lebanon, Richard M. Nixon's outreach to China in the 1970s, and his own Vietnam service.