WASHINGTON - Sen. John McCain's self-portrait as a bold leader willing to set politics aside to save an endangered financial bailout plan took a pounding Thursday from top Democrats and even some fellow Republicans.
His efforts to re-energize his presidential campaign will partly turn on who wins the public relations battle, destined to play out for days.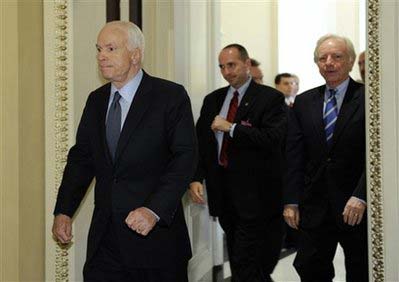 Republican presidential candidate Sen. John McCain, left, leaves with Sen. Joe Lieberman, I-Conn., right, after a meeting on Capitol in Washington, Thursday, September 25, 2008. [Agencies] 
Top Democrats in Congress ridiculed his role after a chaotic end to a White House summit meeting that McCain had requested, and which included Democratic nominee Barack Obama. McCain's campaign said the session "devolved into a contentious shouting match."
The campaign statement suggested Obama was at fault, but Democrats differed.
Related readings:


 Tentative meltdown deal: Bush, McCain, Obama meet


 McCain leaves presidential debate up in the air


 Obama rejects McCain's call to delay debate
"John McCain did nothing to help," said Senate Majority Leader Harry Reid, D-Nev., who attended the meeting. "He only hurt the process."
Negotiations that have centered on a $700 billion plan the Bush administration presented last Saturday seemed to fall apart. An alternative plan drafted by conservative House Republicans was discussed at the White House meeting, but McCain's level of interest was unclear.
"At this moment, the plan that has been put forth by the administration does not enjoy the confidence of the American people as it will not protect ... taxpayers and will sacrifice Main Street in favor of Wall Street," the McCain campaign said in a statement. "We are still optimistic that a bipartisan solution will be found," it said.
Treasury Secretary Henry Paulson sped to Capitol Hill to try to revive or rework the proposal the administration says Congress must approve quickly to stave off economic disaster. Congressional leaders were to meet with the economic chiefs into the night, and were not happy about it.
"We don't want presidential politics involved in this," Reid told reporters.
Even the House's Republican leader, John Boehner of Ohio, passed up a chance to praise McCain's leadership powers shortly before the two met in the Capitol at midday Thursday. Asked by reporters if McCain could help win House Republican votes for the proposed package, Boehner shrugged and said, "Who knows?"
Boehner later said in a statement that McCain "has a vital role to play in this process, and he has a history of working together with both parties to make things happen."
Other Republicans gave McCain more credit. "They got something done this morning only because McCain came back," said Sen. Jim DeMint, R-S.C. DeMint later called the administration's proposal "a trillion-dollar Band-Aid that does not contain a single item that will stimulate our economy."