New York/Washington - Washington Mutual Inc was closed by the US government in by far the largest failure of a US bank, and its banking assets were sold to JPMorgan Chase & Co for $1.9 billion.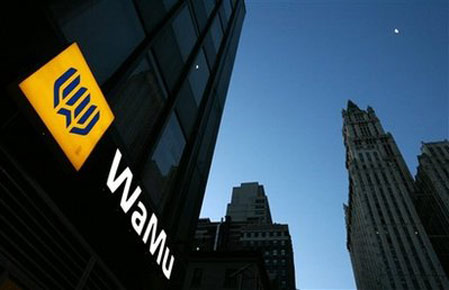 In this July 25, 2008 file photo, a Washington Mutual branch office is shown in New York. [Agencies] 
The rescue marks a historic step to clean up a US financial system littered with toxic mortgage debt.
Washington Mutual, the largest US savings and loan, was closed by the federal Office of Thrift Supervision, and the Federal Deposit Insurance Corp was named receiver. Customers should expect business as usual on Friday, the FDIC said.
The bailout came after the thrift suffered deposit outflows of $16.7 billion since September 15, the OTS said.
"With insufficient liquidity to meet its obligations, WaMu was in an unsafe and unsound condition to transact business," the OTS said.
Seattle-based Washington Mutual has about $307 billion of assets and $188 billion of deposits, regulators said. The largest previous US banking failure was Continental Illinois National Bank & Trust, which had $40 billion of assets when it collapsed in 1984.
The transaction gives JPMorgan roughly 5,400 branches, and fulfills JPMorgan Chief Executive Jamie Dimon's long-held goal of becoming a retail bank force in the western United States.
It comes four months after JPMorgan acquired the failing investment bank Bear Stearns Cos at a fire-sale price.
"Jamie Dimon is clearly feeling that he has an opportunity to grab market share, and get it at fire-sale prices," said Matt McCormick, a portfolio manager at Bahl & Gaynor Investment Counsel in Cincinnati. "He's becoming an acquisition machine."
On a conference call, JPMorgan said the transaction will add to earnings immediately, and result in $1.5 billion of annual cost savings, including from the closure of less than 10 percent of the combined company's branches. He also said JPMorgan plans to issue $8 billion of stock.
The acquisition does not cover Washington Mutual's equity, senior debt and subordinated debt holders, the FDIC. The FDIC said the transaction will not affect its roughly $45.2 billion deposit insurance fund.
The transaction also comes as Washington wrangles over the fate of a $700 billion bailout of the financial services industry, which has been battered by mortgage defaults and tight credit conditions, and evaporating investor confidence.
"It removes an uncertainty from the market," said Shane Oliver, head of investment strategy at AMP Capital in Sydney. "The problem is that markets are in a jittery stage. Washington Mutual provides another reminder how tenuous things are."
Washington Mutual's collapse is the latest of a series of takeovers and outright failures that have transformed the American financial landscape and wiped out hundreds of billions of dollars of shareholder wealth.
These include the disappearance of Bear, US government takeovers of mortgage companies Fannie Mae and Freddie Mac and the insurer American International Group Inc, the bankruptcy filing of Lehman Brothers Holdings Inc, and Bank of America Corp's planned purchase of Merrill Lynch & Co.
JPMorgan, based in New York, ended June with $1.78 trillion of assets, $722.9 billion of deposits and 3,157 branches. Washington Mutual had 2,239 branches and 43,198 employees.
Shares of Washington Mutual plunged $1.24 to 45 cents in after-hours trading after news of a JPMorgan transaction surfaced. JPMorgan shares rose $1.04 to $44.50 after hours.
119-Year History
The transaction ends exactly 119 years of independence for Washington Mutual, whose predecessor was incorporated on September 25, 1889, "to offer its stockholders a safe and profitable vehicle for investing and lending," according to the thrift's website. This helped Seattle residents rebuild after a fire torched the city's downtown.