JERUSALEM - A two-minute siren wailed across Israel Thursday morning, heralding a series of memorial activities on the Jewish state's Holocaust Remembrance Day.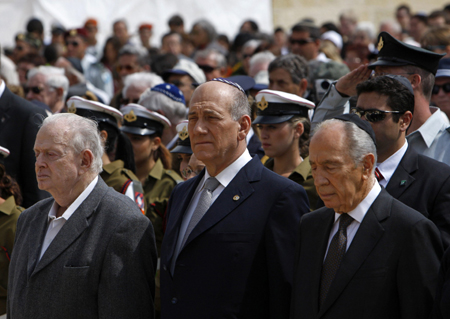 Israel's Prime Minister Ehud Olmert (C), President Shimon Peres (R) and Tommy Lapid, Chairman of the Yad Vashem Council, stand still as a two-minute siren is sounded during a ceremony marking Holocaust Remembrance Day at Yad Vashem Holocaust Memorial in Jerusalem May 1, 2008. [Agencies] 
The whole nation came to a standstill upon the wail at 10 a.m. (0700 GMT), when drivers descended their vehicles and pedestrians halted their steps to remember the six million Jews who perished at the hands of the Nazis during World War II.
Israeli President Shimon Peres and Prime Minister Ehud Olmert laid wreaths at the Yad Vashem Holocaust Memorial Center in Jerusalem, before joining ministers, lawmakers and Holocaust survivors in an occasion at the Knesset where participants, many with tears in eyes, read out the names of Holocaust victims.
Under the theme of Holocaust Survivors in Israel, other memorial services, including torch-lighting and name-reading ceremonies, musical events and exhibitions, will continue through the day all over the state, where some 250,000 Holocaust survivors are now living.
This year's commemorations commenced with a state ceremony staged Wednesday evening at Yad Vashem, with Peres and Olmert among the attendants, where six Holocaust survivors lit up six torches to mourn for the six million Holocaust victims.
"If the countries of the world had dealt with the Nazi threat in a timely, sober way, they could have prevented Hitler from degrading them and murdering tens of thousands of people," Peres said at the evening occasion, adding that it is forbidden "to be late in history."
Following the president's address, Olmert vowed that Israel would remain a place of "protection and shelter" for the Jewish people, while praising the contribution of the Holocaust survivors to the establishment of the state.
"There is not force in the world stronger than the spirit of this people, who emerged from the abyss of annihilation to the summits of creativity, success and the might of the State of Israel," said the prime minister, pledging that the Holocaust " shall never happen again."
Places of entertainment were closed during the day, and Israel police has beefed up security throughout the state, and will remain on a high state of alert till mid-May to secure Israel's 60th anniversary celebrations.
In 2005, the United Nations General Assembly unanimously adopted a resolution introduced by Israel to designate January 27, the day when the Auschwitz camp was liberated in 1945, as Holocaust Remembrance Day. Israel commemorates the day according to the Jewish calendar.