COLOMBO -- At least 52 Tamil Tiger rebels and 38 government soldiers were killed in a major confrontation in Sri Lanka's northern Jaffna peninsula Wednesday morning, officials said.
The Army said in a statement that clashes between the Liberation Tigers of Tamil Eelam (LTTE) and government troops broke out minutes after late midnight Tuesday and culminated Wednesday morning.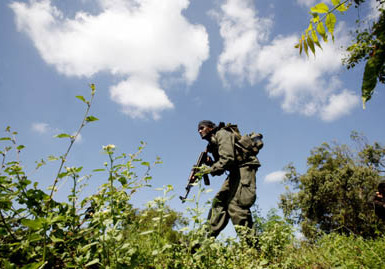 A Sri Lankan army soldier takes part in an operation to regain territory from the Tamil rebels in Jaffna, about 396 kilometers (246 miles) north of Colombo, April 6, 2008. [Agencies]
The statement said 84 Army soldiers were injured in the fighting caused by the LTTE's attempt to overrun Army bunkers.
Udaya Nanayakkara, the military spokesman, said earlier that at least 52 Tamil Tiger rebels were killed and a large number of LTTE rebels were injured, adding that the rebels were pushed some 500 meters back from its first line of defense in the Muhamalai front.
However, pro-rebel sources said the fighting started as the Army attempted to break the Forward Defense Line of the LTTE in Muhamalai using Main Battle Tanks amid Multi Barrel Rocket Launcher, artillery and mortar fire.
The sources said more than 30 dead bodies of the Army soldiers were found by the LTTE in the clearing mission after the battle and 19 dead bodies were brought to Kilinochchi, the administration center of the rebel group.
They said at least 150 government soldiers were killed and more than 400 were wounded in action.
The LTTE is yet to release its own casualty details.
Sources close to the government disclosed that more than 200 fighters might have been killed on each side during the fierce battle.
The troops claimed in July last year that the entire Eastern Province had been free of the rebels and began to engage the LTTE in the north.
Claiming discrimination at the hands of the majority Sinhalese government, the LTTE has been fighting against the government since the mid-1980s to establish an independent homeland for the minority Tamils, resulting in the death of more than 70,000 people in the island.