SHANGHAI - A press release from the Chinese Foreign Ministry said here Wednesday that the six-nation talks on Iran's nuclear issue had reached an "important consensus" to formulate a plan to restart negotiations on Iran's nuclear issue.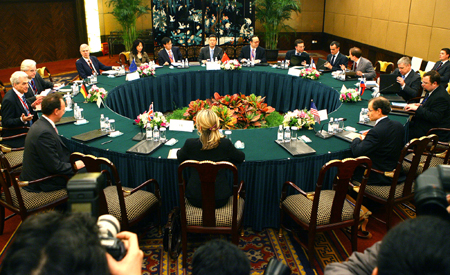 The six-nation talks on Iran's nuclear issue are held in Shanghai, East China, April 16, 2008. [Xinhua] 
The press release said that the attendant parties had profound and constructive discussions on the next steps, however, it did not offer any further information about what the consensus was.
The involved parties all agreed to maintain close communication and consultation in an effort to continue their discussions on some unsolved issues concerning the plan, the press release added.
At the invitation of Chinese Assistant Foreign Minister He Yafei, officials from China, United States, Russia, Britain, France, Germany and the Council of European Union gathered in Shanghai to discuss a plan to restart negotiations on Iran's nuclear issue.
However, the meeting was overshadowed by Tehran's latest defiant moves, by announcing that the country had tested a new advanced centrifuge and started to install 6,000 new centrifuges at Natanz nuclear plant.
"Today a new machine was put to test," Iranian President Mahmoud Ahmadinejad said in a televised speech on the occasion to mark Iran's National Day of Nuclear Technology on Tuesday evening, adding that "It is smaller," but its capacity "is five times greater than the current machines", according to Iran's official IRNA news agency.
According to the press release, during the meeting, He reiterated China's call for a peaceful resolution of the issue through diplomatic negotiations, urging the concerned parties to reinforce their diplomatic efforts, demonstrate their flexibility to work out a concrete and creative plan to resume the negotiation on the final comprehensive and long-lasting settlement of the issue.
The meeting itself is aimed at further carrying out the consensus reached in a statement by the six foreign ministers, the press release added.
The 15-member United Nations Security Council adopted Resolution 1803 on March 3, which included travel restrictions and bans for more Iranians, an expansion of asset freezes, curbs on dual-use nuclear items, export credit, financial monitoring, cargo inspections on aircraft and vessels, and possible "next steps."
The foreign ministers of the six countries issued a statement after the vote, saying that Resolution 1803 reflected "the international community's serious concerns about the proliferation risks of the Iranian nuclear program."
"We remain committed to an early negotiated solution to the Iranian nuclear issue and reaffirm our commitment to a dual-track approach," the statement said. "We remain ready to negotiate future arrangements, modalities and timing ... once the conditions for negotiations have been established."