WASHINGTON - The International Monetary Fund said Tuesday the worldwide losses stemming from the US subprime mortgage crisis could hit US$945 billion as the impact spreads in the global economy.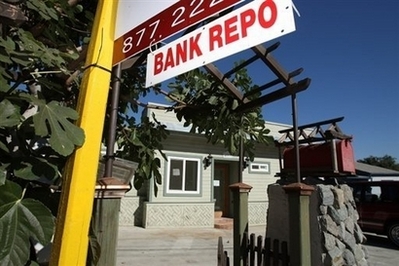 A foreclosed home for sale in Los Angeles in 2007. The International Monetary Fund has said the worldwide losses stemming from the US subprime mortgage crisis could hit 945 billion dollars. [Agencies]
The IMF, in a particularly stark biannual report, said that falling US housing prices and rising delinquencies on the residential mortgage market could lead to losses of US$565 billion.
Combined with other categories of loans originated and securities issued in the United States related to commercial real estate, the consumer credit market, and corporations "increases aggregate potential losses to about 945 billion dollars," it said.
"The crisis is spreading beyond the US subprime market -- namely to the prime residential and commercial real estate markets, consumer credit, and the low- to high grade corporate credit markets," the IMF said in releasing its Global Financial Stability Report.
While the US remains the epicenter, "financial institutions in other countries have also been affected, reflecting the same overly benign global financial conditions and to varying degrees -- weaknesses in risk management systems and prudential supervision."
It was the first time the multilateral institution has made an official estimate of the global losses suffered by banks and other financial institutions in the credit squeeze that began eight months ago in the US, amid rising defaults on subprime, or high-risk, home loans.
The IMF cautioned that its loss estimates were imperfect and could go higher.
"Combined with losses to nonbank financial institutions, including monoline bond insurers, the danger is that there may be additional reverberations back to the banking system as the deleveraging continues," it said.
In mid-February, the head of the bloc of European Union nations using the euro, Jean-Claude Juncker, suggested the IMF estimated the losses linked to the US subprime crisis at 400 billion dollars. That estimate is what Tuesday's report now puts at 565 billion dollars, an IMF official said.