San Francisco - The Olympic flame landed at San Francisco airport at 3:40 am in the morning for its sixth stopover of global journey on Tuesday.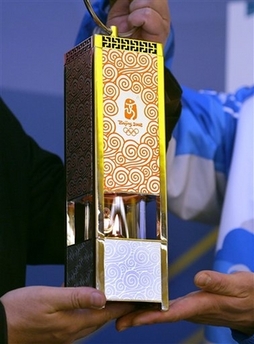 Jiang Xiaoyu (L) executive vice president of the Beijing Organizing Committee of Olympic Game, and an handler (R) holds the Olympic flame, shortly after arriving at San Francisco International airport, April 8, 2008. [Agencies] 
The sacred flame just wrapped up its relay in Paris and set up for carrying through San Francisco, which has witnessed the coming of Olympic flame for four times before, namely the 1984 Los Angeles Summer Games, the 1996 Atlanta Summer Games, 1960 Winter Squaw Valley and 2002 Salt Lake City Winter Games
The route in San Francisco is set to pass AT&T Stadium, the home court for San Francisco baseball team of Giants, Bay Bridge, Ferry Building, Golden Gate Bridge, Palace of Fine Arts, China Town, Lombard Street and Civic center, Ciot Tower, Fishermen's Wharf, according to the released itinerary.
High-profiled torchbearers are Lang Ping, the US women's volleyball team coach, who captained Chinese team to a couple of world champions, former San Francisco mayor Willie Brown and a retired firefighter Rick Doran, who is part of the crew going through the September 11 terrorist attacks.