WASHINGTON - Democratic US presidential candidate Hillary Clinton has moved into a significant lead over Barack Obama among Democratic voters, according to a new Gallup poll.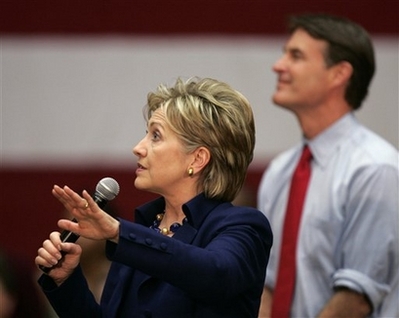 Democratic presidential hopeful, Sen. Hillary Rodham Clinton, D-N.Y., campaigns with Sen. Evan Bayh, D-Ind., at a town hall meeting in Anderson, Ind., Thursday, March 20, 2008. [Agencies]
The March 14-18 national survey of 1,209 Democratic and Democratic-leaning voters gave Clinton, a New York senator, a 49 percent to 42 percent edge over Obama, an Illinois senator. The poll has an error margin of 3 percentage points.
The poll was a snapshot of current popular feeling, but Clinton trails Obama in the state-by-state contest which began in January to select a nominee to face presumptive Republican nominee John McCain in the November election to succeed President George W. Bush.
The nominees are formally chosen by delegates at the parties' conventions in the summer.
Gallup said the poll lead was the first statistically significant one for Clinton since a tracking poll conducted February 7-9, just after the Super Tuesday primaries. The two candidates had largely been locked in a statistical tie since then, with Obama last holding a lead over Clinton in a March 11-13 poll.
Gallup said polling data also showed McCain leading Obama 47 percent to 43 percent in 4,367 registered voters' preferences for the general election. The general election survey has an error margin of 2 percentage points.
The Arizona senator also edged Clinton 48 percent to 45 percent but Gallup said the lead was not statistically significant.