UNITED NATIONS -- The UN Security Council failed to agree on a statement Thursday condemning the Jerusalem attack which killed eight people earlier in the day.
"I can only regret that the council has not been able to reach an agreement," said Russian Ambassador Vitaly Churkin, the council's president for this month, after attending an urgent council meeting.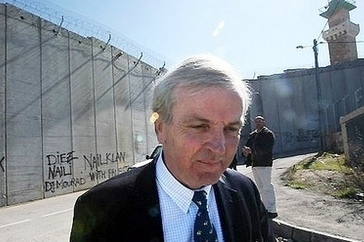 UN emergency relief coordinator John Holmes is seen in front of Israel's controversial separation barrier during a visit to the Palestinian village of Abu Dis on the outskirts of Jerusalem on February 16, 2008. [Agencies]
Churkin said that there was a clear division in the 15-member panel because some members were "in favor of focusing on this particular terrorist attack (while) others chose to take a broader view of the situation."
Related readings:


 Gunman kills 8 at Jerusalem seminary


 Israel to build more in east Jerusalem


 E. Jerusalem settlement plan denied


 Anger at east Jerusalem settlements
U.S. and Israeli ambassadors blamed Libya for blocking the council from taking action on this "terrorist act."
Israeli Ambassador Dan Gillerman told reporters that it was unfortunate for the council not to reach an agreement on a presidential statement, which would demand consensus.
US Ambassador Zalmay Khalilzad said that the statement would have condemned the Jerusalem attack "in the strongest terms" but Libya wanted to link it to other issues.
UN diplomats said that Libya, the only Arab state on the council, had demanded a "balanced" statement that would also condemn the killing of Palestinians in the Gaza Strip by Israeli forces.