ROME - Italian Premier Romano Prodi resigned Thursday after his center-left coalition lost a Senate confidence vote, a humiliating end to a 20-month-old government plagued by infighting.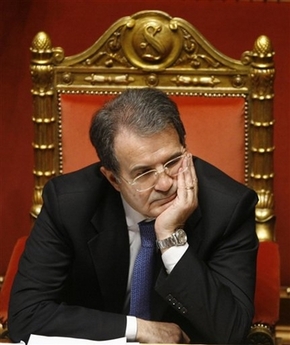 Italian premier Romano Prodi looks on, prior to a confidence vote in the Senate, in Rome, Thursday Jan. 24, 2008. Embattled premier Prodi appealed to the Senate to back his government Thursday, in an attempt to keep his center-left coalition from collapsing. [Agencies] 
Calling early elections or asking a politician to try to form another government are among President Giorgio Napolitano's options as head of state. Until he decides, Prodi will stay on in a caretaker role.
Elected in April 2006, Prodi has had a shaky government from nearly the start. It lurched toward collapse this week after a small Christian Democrat party, whose votes were vital to his Senate majority, yanked its support in the latest coalition spat.
Prodi, a 68-year-old former economics professor, went into the vote with the numbers stacked against him after a few additional senators in his coalition parties said they would cast "no" votes.
The government lost 161-156 after a fiery debate during which one senator was spat upon, fainted and had to be carried out on a stretcher.
Former Premier Silvio Berlusconi, the billionaire media magnate who lost to Prodi in 2006 and is eager to return to office, said Napolitano should call early elections, the Italian news agency ANSA reported.
"We need to go to the polls in the shortest time possible without delay," Berlusconi was quoted as saying outside his Rome residence.
But the leader of the largest party in the government, Rome Mayor Walter Veltroni, contended that early elections would only "push the country into a situation of dramatic crisis."
Veltroni, the head of a leftist group of former Communists and pro-Vatican centrists, is considered the likely candidate for the left.
The presidential palace said Napolitano would start consulting with political leaders Friday on what to do next.
Berlusconi said his conservative lawmakers would veto any push for a "technocrat" government, an idea supported by lawmakers who want Parliament to enact reforms of the electoral system which is blamed for contributing to Italy's chronic political instability.
Although decades of revolving-door politics has produced 61 governments since World War II, Italy's political climate had stabilized in recent years, with Berlusconi's government lasting for a full five-year term starting in 2001.
On Wednesday, Prodi won a confidence vote in the lower Chamber of Deputies, a safe gamble because his coalition forces have a comfortable majority there.
In a final appeal for support to senators, Prodi said holding the risky Senate vote was "not a gesture of stubbornness but of being consistent."
Prodi, known for his unemotional speaking style, made a straightforward appeal to the senators, asking them to let his government continue so it could carry out badly needed reforms.
Among other reforms he wants is an overhaul of the electoral system, which is blamed for giving small parties disproportionate weight in fragile coalitions.
But Prodi lost his gamble that allies might close ranks and that Italy's seven senators-for-life could rescue him as in the past.
During the debate, one senator, Christian Democrat Nuccio Cusumano, stood up after Prodi's speech to announce he was breaking with his party to vote in favor of the government.
Some lawmakers from his UDEUR party, the group that defected from Prodi's coalition earlier this week responded with calls of "traitor" that resounded through the Senate.
Cusumano was spat upon, fainted, and was carried out on a stretcher. He returned to vote "yes" a few hours later.