KABUL - At least eight policemen were killed Thursday during an operation by US-led coalition troops in central Afghanistan, an Afghan official said.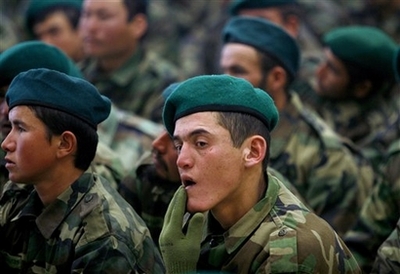 A new Afghan National Army recruit listens to a speech during their graduation ceremony on the outskirts of Kabul, Afghanistan, Thursday, Jan. 24, 2008. [Agencies]
The officers died in the village of Ghariban in Ghazni province during an operation that included US ground forces and airstrikes, said the deputy head of Ghazni's provincial council, Habeb-ul Rahman. It was unclear whether Afghan troops also took part in the raid.
Two other villagers, including a woman, were killed in the clash, Rahman said.
Related readings:


 More Marines heading to Afghanistan


 Violence continues in Afghanistan


 US Senate OKs $70B for Iraq, Afghanistan


 Allies losing Afghanistan war: Australian minister


 Bin Laden urges Europe to quit Afghanistan


 Attacker in Afghan hotel slaughter wore police uniform


 3 Americans among those killed in attack on Afghan hotel
It was not immediately clear how the officers and civilians were killed.
The US-led coalition said it had yet to receive any information about fighting in that area.
Afghan police officials in Ghazni province, who spoke on condition of anonymity since they were not authorized to speak to the media, said that policemen appeared to have been killed by airstrikes, which also destroyed several houses.
Their claim could not be independently verified.
Among the officers killed was the former provincial deputy police chief, Rahman said.
Faced with troop shortages, US and NATO-led troops rely heavily on the use of airpower in their fight against Taliban and other militants in Afghanistan. Such tactics have caused many civilians casualties in past years, and at times caused friction with Afghan President Hamid Karzai, who have urged caution and coordination with Afghan authorities.
US and NATO officials accuse militants of using civilians as human shields.