WASHINGTON -- Soldiers' battlefield tours would be cut from 15 months to 12 months beginning August 1, under a proposal being considered by the Army as part of an effort to reduce the stress on a force battered by more than six years at war.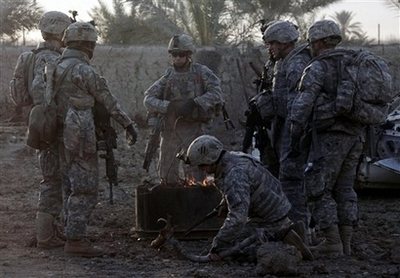 US Army soldiers from Alpha Company, 1st Battalion, 30th Infantry Regiment gather around a fire to fight off the bitter cold in Arab Jabour during Operation Coliseum south of Baghdad, Iraq on Wednesday, Jan. 23, 2008. [Agencies]
The proposal, recommended by US Army Forces Command, is being reviewed by senior Army and Pentagon leaders, and would be contingent on the changing needs for troops in Iraq and Afghanistan.
"Our top priority is going to be meeting the combatant commanders' requirements, so there may be no decision until we get more clarity on that," Army Col. Edward Gibbons, chief of the command's plans division, said Wednesday. He said the goal was to meet those demands while still reducing soldiers' deployments and increasing their time at home between tours.
Gen. George Casey, chief of staff of the Army, has been pushing to move back to one-year deployments, citing the heavy burden that the 15-month stays put on troops and their families. Just last week he hinted the shorter tours could begin this summer.
But defense officials have been reluctant to talk much about the shift because it will depend heavily on what Gen. David Petraeus, the top US commander in Iraq, recommends when he gives his assessment of the war to Congress in March or April.
Defense Secretary Robert Gates ordered the move to 15-month deployments about a year ago, as the Pentagon struggled to fight wars on two fronts.
Under the new proposal, any Army brigade that deploys to Iraq or Afghanistan on or after August 1 would spend 12 months on the battlefront, Gibbons said. Four of the brigades currently deployed would serve 12-month tours, six would have tours of 13 to 14 months, and five would stay for the full 15 months.
Over time, the shift to yearlong deployments would give soldiers more time at home -- ranging from at least a year to as much as 15 months. Currently units are deploying for 15 months and getting about 12 months at home.
The proposal, first reported by Army Times, has been recommended to senior military leaders in the Pentagon. One Pentagon official said Wednesday that the proposal is in keeping with the vision that Casey has laid out to the chairman of the Joint Chiefs of Staff.