JERUSALEM - Israel and the Palestinian National Authority resumed peace negotiations for the first time in nearly seven years Wednesday, trying to reconcile conflicting claims and clashing dreams in a bid to end six decades of conflict.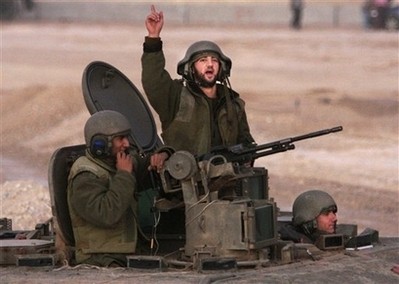 An Israeli soldier gestures as he and others ride on an armored vehicle following an operation in the Gaza Strip near the Sufa Crossing between Israel and Gaza, December 11, 2007.[Agencies]
The talks went ahead despite a new outbreak of violence in the Gaza Strip. Early Wednesday, Palestinian militants fired 16 homemade rockets toward Israel, causing minor damage lightly wounding one woman, Israeli officials said.
The barrage came hours after Israeli forces ended a broad incursion into the coastal strip that killed six militants and left a wide swath of damage in its wake.
Israel's incursion into Gaza, along with a plan to expand a neighborhood in disputed east Jerusalem, has prompted Palestinian charges that Israel is sabotaging the atmosphere even before the talks begin. Israel rejects the charges.
Late Tuesday, Israel announced that the talks would be moved from Jerusalem's ornate King David Hotel to an undisclosed location.
Israeli Foreign Ministry spokesman Arye Mekel said the talks got under way around midday. He said both sides wanted to keep the meeting "low key," but there were hopes to "jump start" the peace process. The talks were believed to be taking place at another Jerusalem hotel.
Israel is pursuing peace with the moderate Palestinian president, Mahmoud Abbas, who rules from the West Bank. At the same time, it continues to battle the Hamas, which has ruled Gaza since defeating Abbas' forces last June.
Israel regularly carries out brief ground incursions and airstrikes in Gaza in a bid to stop Palestinian rocket and mortar attacks on southern Israeli towns.
The Islamic Jihad militant said it fired nine of the rockets to avenge Israel's incursion. "The resistance is going to escalate the operations targeting the Zionist colonies in the coming hours," said Abu Ahmad, a spokesman for the group.
Tuesday's operation, in which tanks and bulldozers pushed 1.5 kilometers (2.5 miles) into southern Gaza, was the broadest push since the Hamas takeover. Early Wednesday, the troops had withdrawn to a buffer zone along the Israeli border.
The Israeli forces left behind heavy damage to al Fukhari, a farming community near the southern town of Khan Younis.