CANBERRA - Australia's new prime minister, Kevin Rudd, took the oath of office on Monday and immediately signed documents to ratify the Kyoto Protocol, ending his country's long-held opposition to the global climate agreement.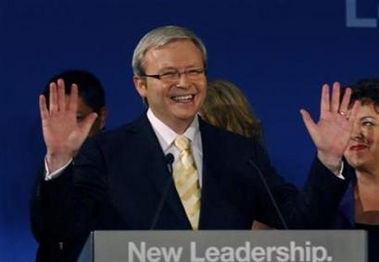 Newly elected Prime Minister Kevin Rudd waves to the crowd after Labour won the Federal election, Brisbane, November 24, 2007. Rudd took the oath of office on Monday and immediately signed documents to ratify the Kyoto Protocol. [Agencies]
The move isolates the United States, which will now be the only developed nation not to ratify the agreement which sets binding limits on developed countries to curb the carbon emissions blamed for global warming.
"This is the first official act of the new Australian government, demonstrating my government's commitment to tackling climate change," Rudd said in a statement.
Rudd, 50, led the centre-left Labor party to victory at the November 24 election, ending nearly 12 years of conservative rule, by promising a new generation of leadership and committing to sign the Kyoto pact.
The former conservative government refused to ratify Kyoto, saying it would unfairly hurt the Australian economy with its heavy reliance on coal for energy and export income.
Shortly after Rudd was sworn in as prime minister, the decision to ratify Kyoto was approved by Governor-General Michael Jeffery, who represents Britain's Queen Elizabeth in Australia's constitution.
Under UN guidelines, full ratification takes place 90 days after the United Nations receives the formal Instrument of Ratification, meaning Australia will be a full member of the Kyoto club by the end of March.
The move clears the way for Rudd to play a stronger role when he leads a delegation of four Australian ministers to the UN climate talks in Bali, which opened negotiations on Monday on new carbon emission targets for beyond 2012.
The previous government said Australia would meet its Kyoto targets, despite not ratifying the pact, but Rudd said the latest advice suggested it would miss its target to curb greenhouse emissions growth to 108 percent of 1990 levels by 2012.
"We are currently likely to exceed, or overshoot, our target by one percent," Rudd said, adding that Australia faced penalties under new targets beyond 2012, which would lead to higher energy prices. "When you're dealing with climate change ultimately it will impact for example on energy prices."
Rudd said his government would do everything within its power to meet the Kyoto obligations, and had set a long-term target of cutting carbon emissions by 60 percent of 2000 levels by 2050.