CANBERRA -- Australia's Labor leader Kevin Rudd was sworn in as prime minister on Monday, promising to urgently sign the Kyoto Protocol on climate change.
But Rudd said that the country was likely to miss its Kyoto target for reducing greenhouse gas emissions by 2012.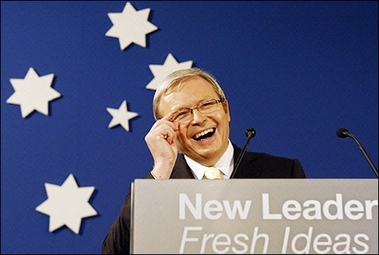 Labor leader Kevin Rudd can barely contain his joy as he delivers his victory speech after winning the federal elections in his hometown of Brisbane, November 2007. [Agencies] 
Australia's decision to sign Kyoto isolates the United States, which will now be the only developed nation not to ratify the agreement, which sets binding limits on developed countries to curb carbon emissions which are blamed for global warming.
Rudd said he wants the Kyoto ratification process to be well advanced by early next week, when he will lead Australia's delegation to the UN summit in Bali, which will start negotiations on new pollution targets beyond 2012.
"We would hope to have that done very very soon, ideally within the course of the next week or so," Rudd told Australian radio on Monday, before he was sworn into power.
Rudd, 50, led the centre-left Labor party to victory at November 24 election, ending 11 years of conservative rule, by promising a new generation of leadership.
Australia's former conservative government refused to ratify Kyoto, saying it would unfairly hurt the economy and heavy reliance on coal for energy and export income. Under the Kyoto agreement, Australia was one of the few countries to be given a generous target which allowed an increase in greenhouse gas emissions, with the target set at 108 percent of 1990 levels by 2012.
Australia's previous government had said it would meet its Kyoto targets, but Rudd said his latest advice suggested the country would miss the target.
"We are currently likely to exceed, or overshoot our target by one percent," Rudd said, adding Australia faces penalties under new targets beyond 2012, which would lead to higher energy prices.
"When you're dealing with climate change ultimately it will impact for example on energy prices," he said.
Rudd has promised to make climate change his government's first priority, with the issue set to be discussed at the first meeting of Labor's cabinet in Brisbane later this week.
Rudd and his new minister for climate change, Malaysian-born Penny Wong, will then attend the Bali summit next week.
Rudd's decision on Kyoto has won the backing of aid agency World Vision.
"The decision by the Rudd government to sign the Kyoto Protocol has put Australia back in a position to influence the global response to climate change," said World Vision head Tim Costello.