KHARTOUM - Thousands of Sudanese, many armed with clubs and knives, rallied Friday in a central square and demanded the execution of a British teacher convicted of insulting Islam for allowing her students to name a teddy bear "Muhammad."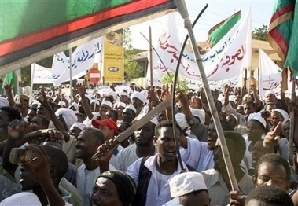 Thousands of Sudanese, many carrying swords, knives and sticks, protest in Khartoum, Sudan, after Friday prayers November 30, 2007, calling for the execution of a British teacher convicted of insulting Islam for letting her students name a teddy bear Muhammad. [Agencies] 
In response to the demonstration, teacher Gillian Gibbons was moved from the women's prison near Khartoum to a secret location for her safety, her lawyer said.
In Britain, Gibbons' son, John, said that her mother was "holding up well" and she made an appeal for tolerance.
"One of the things my mum said today was that 'I don't want any resentment towards Muslim people,'" John Gibbons said, relaying part of a telephone conversation with her.
The protesters streamed out of mosques after Friday sermons, as pickup trucks with loudspeakers blared messages against Gibbons, who was sentenced Thursday to 15 days in prison and deportation. She avoided the more serious punishment of 40 lashes.
They massed in central Martyrs Square outside the presidential palace, where hundreds of riot police were deployed.
Gibbons' chief lawyer, Kamal al-Gizouli, said she was moved from the prison for her safety for the final days of her sentence.
"They moved this lady from the prison department to put her in other hands and in other places to cover her and wait until she completes her imprisonment period," he said, adding that she was in good health.
"They want, by hook or by crook, to complete these nine days without any difficulties, which would have an impact on their foreign relationship," he said.
Several hundred protesters, not openly carrying weapons, marched from the square to Unity High School, about a mile away, where Gibbons worked. They chanted slogans outside the school, which is closed and under heavy security, then headed toward the nearby British Embassy. They were stopped by security forces two blocks away from the embassy.
Some of the protesters carried green banners with the name of the Society for Support of the Prophet Muhammad, a previously unknown group.