SINGAPORE -- East Asian economies are likely to remain healthy next year despite the impact of the widening subprime lending crisis in the US and the renewed increase in crude oil prices, the World Bank said Thursday. The region's rapid growth is also reducing poverty, although income inequality is expanding.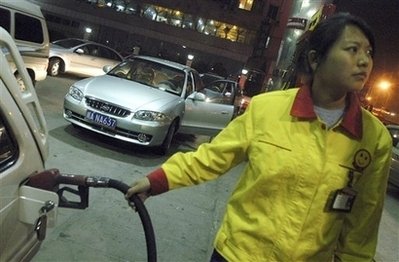 A Chinese worker pumps gas for motorists at a gas station of PetroChina in Chengdu of southwest China's Sichuan province in this Nov. 1 2007 file photo. While oil is fueling the rapid growth of China, India and other emerging economies, energy companies are going to ever more remote areas to meet that demand. [Agencies]
Led by domestic demand, growth in emerging East Asia, which excludes Japan, is expected to exceed 8 percent this year for a second year in a row, and to moderate slightly next year, the bank said in its half-yearly update on the region's outlook. Japan is likely to grow about 2 percent this year and 1.8 percent in 2008, it said.
Growth in China is now projected to reach 11.3 percent in 2007, up a little from 11.1 percent last year. The bank forecast China's growth to slow slightly to 10.8 percent next year.
Growth in the middle income economies of Southeast Asia is also expected to gain momentum this year, with faster growth in the Philippines and Indonesia in the 6 percent to 7 percent range, and continued solid growth in a 5 percent to 6 percent range in Malaysia, driven by stronger personal consumption and investment growth.
The bank warned, however, that the problems posed by the US subprime mortgage crisis, the related credit crisis as well as rising oil prices could hinder East Asia's growth.
The report said the region's financial institutions have relatively limited direct exposures to US subprime mortgages made to borrowers with poor credit histories.
The report said among the economies, China is the largest overseas holder of US mortgage-backed securities -- around $260 billion -- mostly through its international reserve holdings and through holdings of commercial banks. But most of these holdings are backed by US government agencies such as Fannie Mae, the largest US buyer and backer of home mortgages, the report said.
Rather, it said that impact of the crisis on East Asia has instead been heightened uncertainty and a reassessment of risk, reflected in stock market declines.
"Frequent and large reassessments of risk and high volatility in asset prices are likely to remain a part of the scene for some time," the bank said.
Still, if the difficulties in credit markets create a more substantial downturn in the developed world, particularly the US, it would lead to a significant cyclical slowdown in East Asia, the Washington-based institution said. But the impact is likely to be limited given the region's strong macroeconomic fundamentals, the report said.
It predicted that a theoretical decline in US growth to zero in 2008 -- a decline of 2 percentage points -- would be met with a 1 percentage point drop in median East Asian economic growth, to 5 percent from about 6 percent.
"Significant, but no disaster," the report said, referring to the impact of a US recession on the region. "A review of the region's performance in previous global downturns suggests that the impact on East Asia is unlikely to be especially severe or protracted."
East Asian growth was seriously affected during the 2001 US recession that was accompanied by a severe cyclical contraction in global demand for electronic goods. But the bank said there were few signs of such a cycle now.
Record high oil prices, meanwhile, will test the resilience of the region's economies next year, the bank said. Amid surging global demand and supply tightness, average crude oil prices have risen from about $53 a barrel in January to more than $90 in early November.
At $90 a barrel, the price of oil would be linked to an income loss in the region of about 1.1 percent of gross domestic product in 2008, according to the bank's calculations.
The report also said the strong economic growth has reduced the number of people living below $2 a day in the region to about 27 percent -- about 500 million people -- in 2007, down from 29.5 percent in 2006 and 69 percent in 1990.
But poverty is now overwhelmingly a rural problem, and it is resulting in widening income inequality, the report said.
"Even as poverty continues to fall in the aggregate, it is often the case that lower income groups experience slower income growth than higher income ones," it said.
The World Bank defines East Asia as comprising bigger economies as the Chinese mainland, Indonesia, Japan, Malaysia, the Philipppines, Thailand, Vietnam, China's Hong Kong, South Korea, Singapore, China's Taiwan and some smaller economies such as Cambodia, Fiji, Lao and Timor-Leste.