VALENCIA, Spain - Working until dawn, negotiators on Friday concluded a policy guide for governments on global warming that declares climate change is here and is getting worse, one of its authors said.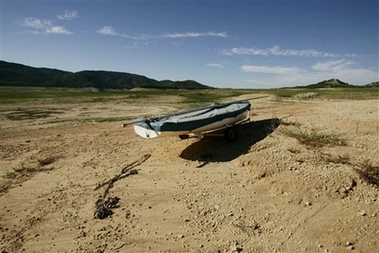 A boat rests on the dry reservoir bed of the Entrepenas reservoir, Spain in this Sunday, Aug. 13, 2006, file photo. Negotiators working on a landmark global warming report don't need to go far to see the effects of climate change: The evidence is all around the Mediterranean resort of Valencia, Spain, where they are meeting.  [Agencies]
Provisional agreement on the text - which is about 20 pages and summarizes thousands of pages of data and projections - required compromises among the more than 140 delegations, but resulted in a "good and balanced document," said Bert Metz, a Dutch scientist who helped draft the report.
The brief Summary for Policymakers is expected to get final approval later Friday after a longer version of about 70 pages is reviewed and adopted. It is to be released Saturday by UN Secretary-General Ban Ki-moon. Until then, the text is supposed to remain confidential.
The paper will be an "instant guide" to policymakers at a critical meeting next month in Indonesia, which could launch a round of complex talks on a new international accord for controlling carbon emissions and other human activity that is heating the planet.
Though it contains no previously unpublished material, the summary pulls together the central elements of three lengthy reports released earlier this year by the UN Intergovernmental Panel on Climate Change.
They describe observations of the changing climate, the potentially disastrous impacts of global warming and the tools available to slow the warming trend.
"Warming of the climate system is unequivocal," the summary begins - a statement meant to dispel any skepticism about the reality of climate change - according to a person familiar with the final draft who requested anonymity because the summary was not yet public.
The document "is a clear message to policymakers," said Hans Verolme, of the World Wide Fund for Nature, one of the environmental groups acting as observers. "The scientists have done their job. They certainly deserved the Nobel Prize. Now the question is, what are the policymakers going to do with it?"