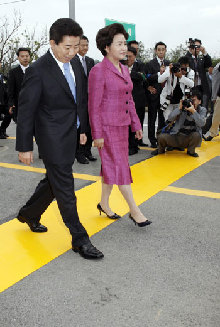 South Korean President Roh Moo-Hyun and his wife Kwon Yang-sook walk toward the border line as they head for North Korea in Paju, north of Seoul, October 2, 2007. [Agencies] 
DPRK (North Korea) leader Kim Jong Il greeted South Korean President Roh Moo-hyun in Pyongyang on Tuesday to begin the second summit between the two countries since the peninsula's division more than 50 years ago.
Earlier, Roh Moo-hyun and his wife Kwon Yang-sook stepped across a yellow plastic strip marked with the words "peace" and "prosperity" and laid across the Military Demarcation Line that divides the Koreas.
"The Korean people have suffered too much pain because of this border line. I'll work hard to pave the way for (inter-Korean) peace and prosperity," he said in an emotional speech before walking across the border line.
Roh said that he would build on the achievements from the first North-South summit in 2000 and "hasten the slow march" in reconciliation between the two countries, which remain technically at war since the 1950-53 Korean War ended in a ceasefire.
"I intend to concentrate on making substantive and concrete progress that will bring about a peace settlement together with economic development," President Roh Moo-hyun said earlier in front of the presidential Blue House before getting into an armored car for the journey by road across the heavily fortified Demilitarized Zone.
The meeting comes at a time of talks over disarmament, with DPRK negotiators set to respond Tuesday to the latest road map of disarmament.
About a year ago, Pyongyang tested a nuclear bomb leading to a dramatic turnaround in a previously hard-line US policy. Since then, DPRK has shut down its sole operating nuclear reactor, and has tentatively agreed to disable its atomic facilities by year-end.
DPRK's UN ambassador, Pak Gil-yon, said Monday that his government is looking to the summit to ease tensions and improve relations. He told UN Secretary-General Ban Ki-moon, a former South Korean foreign minister, the meeting resulted from "the good atmosphere" between the two governments.
Roh is leading a motorcade on Tuesday morning that includes some 200 business leaders, politicians and cultural figures. He stepped out of his limousine to become the first leader from the South to walk across the fortified border. For the first summit, then-South Korean President Kim Dae-jung traveled by plane, although land crossings of the border by other officials are not rare.
Roh will spend hours in dialogue with Kim, and tour the country.
Roh said Monday that the rival Koreas would eventually discuss how to build military confidence, reduce arms and replace the 1953 Korean War cease-fire with a permanent peace treaty.
Unification Minister Lee Jae-joung told reporters in Seoul that the two Koreas would discuss peace in broad terms, but acknowledged they could not tackle the issue alone. Any real peace treaty would require the participation of the United States and China, which signed the original armistice.
State Department spokesman Tom Casey said Monday that the United States generally supports such North-South contacts, and that nuclear matters would likely be discussed. He added, "I don't think that there's anything particular about their conversations, though, that will change substantively the discussions that just occurred in Beijing." He declined to comment further.
The meeting has political undertones for Roh, who leaves office in February. The conservative South Korean opposition has criticized the summit as a ploy aimed at bolstering his sagging popularity, just two months before the next presidential election.