KABUL, Afghanistan -- President Hamid Karzai offered to meet with the Taliban leader and give militants a government position, but a spokesman for the militant group on Sunday said it will "never" negotiate with Afghan authorities until US and NATO forces leave the country.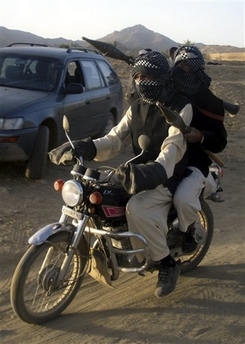 Taliban militants ride a motorbike in the area where the two unidentified foreign staff of the International Committee of the Red Cross (ICRC) were released in the Sayad Abad district of Wardak province, Afghanistan Saturday, Sept. 29, 2007. [Agencies]
Karzai made the offer only hours after a suicide bomber in army disguise attacked a military bus Saturday, killing 30 people -- nearly all of them Afghan soldiers.
Strengthening a call for negotiations he has made with increasing frequency in recent weeks, Karzai said he was willing to meet with the reclusive leader Mullah Omar and Gulbuddin Hekmatyar, a former prime minister and factional warlord leader.
"If I find their address, there is no need for them to come to me, I'll personally go there and get in touch with them," Karzai said. "Esteemed Mullah, sir, and esteemed Hekmatyar, sir, why are you destroying the country?"
But the Taliban spokesman, Qari Yousef Ahmadi, repeated an earlier position by saying that it would never negotiate with the Afghan government in the "presence of foreign forces."
"Even if Karzai gives up his presidency, it's not possible that Mullah Omar would agree to negotiations," Ahmadi said. "The foreign forces don't have the authority to talk about Afghanistan."
Karzai said he has contacts with Taliban militants through tribal elders but that there are no direct and open government communication channels with the fighters. Omar's whereabouts are not known, although Karzai has claimed he is in Quetta, Pakistan, a militant hotbed across the border from Afghanistan's Kandahar province.
"If a group of Taliban or a number of Taliban come to me and say, 'President, we want a department in this or in that ministry or we want a position as deputy minister ... and we don't want to fight anymore,' ... If there will be a demand and a request like that to me, I will accept it because I want conflicts and fighting to end in Afghanistan," Karzai said.
"I wish there would be a demand as easy as this. I wish that they would want a position in the government. I will give them a position," he said.
The US Embassy in Kabul has said it does not support negotiations with Taliban fighters, labeling them as terrorists, although the UN and NATO have said an increasing number of Taliban are interested in laying down their arms. NATO's ambassador to Afghanistan, Daan Everts, said this month that the alliance would look into the possibility of talks.