WASHINGTON - Navy Adm. Mike Mullen, the next chairman of the Joint Chiefs of Staff, is troubled by the Iraq war. He thinks it has become such a consuming focus of US attention that it may be overstretching the military and distracting the nation from other threats.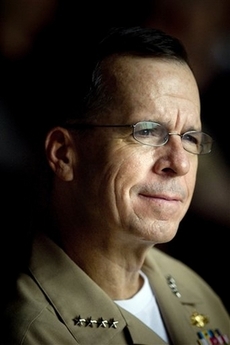 This image provided by the US Navy shows Chief of Naval Operations Adm. Mike Mullen attending a frocking ceremony for three new chief petty officers Sept. 21, 2007. [Agencies]
When he steps into his new office in Room 2E676 at the Pentagon on Monday, replacing Marine Gen. Peter Pace as the senior military adviser to the president and the defense secretary, Mullen already will be on record expressing his war worries with an unusual degree of candor.
"I understand the frustration over the war. I share it," he told his Senate confirmation hearing.
As evidence of his focus on Iraq, Mullen has told Congress he intends to travel to Baghdad immediately after he takes over so he can see firsthand how the war effort is going.
Mullen, 60, was Defense Secretary Robert Gates' choice to replace Pace, who had been vice chairman of the Joint Chiefs when the Iraq invasion was launched in 2003.
Pace has been criticized by some for not speaking up more forcefully on the conduct of the war after he became chairman in October 2005. In June, Gates announced that Pace would retire rather than serve a second term as chairman - not because of his performance in the job but because of political heat over the war.
Adm. Gregory G. Johnson, who retired from the Navy in December 2004 and has known Mullen for 20 years, said he believes Mullen will find ways to ensure that his views on the war are heard clearly.
Coming in as Gates' choice to provide military advice gives Mullen "an incredibly strong hand," Johnson said.