MOSCOW - President Vladimir Putin has dissolved the Russian government on the request of the prime minister, the Kremlin said Wednesday, a major political shakeup that comes less than three months before crucial parliamentary elections.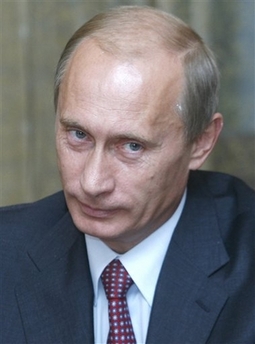 Russian President Vladimir Putin seen at his meeting with Vietnamese Prime Minister Nguyen Tan Dung in the Novo-Ogaryovo residence outside Moscow, Tuesday, Sept. 11, 2007. [AP]
In announcing the dissolution, Putin said "indeed the country is now approaching parliamentary elections, which will lead to presidential election. You may be right that we all must think about how to build the power structure so that it better corresponds to the pre-election period and prepares the country for the time after the parliamentary elections and after presidential elections."
Earlier, Prime Minister Mikhail Fradkov said he made the decision to request the government's dissolution based on "the approaching major political events in the country and a desire to give the president full freedom in making decisions, including personnel."
The shakeup comes ahead of crucial parliamentary elections scheduled for Dec. 2, followed some three months later by presidential elections.
The dissolution is expected to result in a new head of government, who will be seen as Putin's choice to succeed him after he steps down next spring.
The newspaper Vedomosti, citing unnamed Kremlin officials, reported Wednesday that Sergei Ivanov, a first deputy prime minister and a leading contender to succeed Putin, could be appointed prime minister in the near future.
Another first deputy prime minister, Dmitry Medvedev, who is a top executive at natural gas monopoly OAO Gazprom, is considered the other leading contender.