PYONGYANG -- A team of inspectors from the United States, China and Russia headed Wednesday to main nuclear facilities in the Democratic People's Republic of Korea (DPRK) to study how to permanently disable them.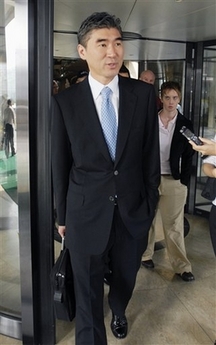 US State Department official Sung Kim leaves a hotel in Pyongyang as he heads to Yongbyon. American, Russian and Chinese nuclear experts are in North Korea to examine ways of disabling the country's main nuclear facilities so they can no longer produce bombs. [AP]
The experts team visited the DPRK at Pyongyang's invitation, which was described as a "significant step toward denuclearization of the Korean Peninsula" by US Assistant Secretary of State Christopher Hill last Friday.
The team includes seven experts from the United States, one from China and one from Russia.
The delegates arrived Tuesday in the DPRK capital, Pyongyang, ahead of their inspection tour 60 miles north in Yongbyon to determine how to disable facilities there under a February international accord.
Their findings will be reported to chief delegates at six-nation nuclear talks, which are expected to convene later this month to finalize a timeline for further steps in the DPRK's nuclear disarmament.
US State Department official Sung Kim told reporters in Pyongyang that it was not yet certain which of the DPRK facilities would be inspected, adding that the team would possibly return Thursday to Pyongyang, broadcaster APTN reported.
The DPRK in July shut down its sole operating reactor at Yongbyon, which produced plutonium for bombs and is being monitored by the International Atomic Energy Agency. The Yongbyon site also includes facilities for reprocessing nuclear fuel from the reactor. DPRK also has long-dormant construction sites nearby for two larger reactors.
The US and DPRK nuclear envoys agreed in talks earlier this month in Geneva that Pyongyang's nuclear facilities would be disabled by year-end - meaning that they could not be easily restarted to continue making material for bombs. Future negotiations will determine how to dismantle the facilities.
The top US envoy to South Korea reaffirmed Wednesday that Washington hoped to complete the disablement of the DPRK's nuclear facilities in 2007.
US Ambassador Alexander Vershbow told South Korea's YTN news channel that contacts between the DPRK and the countries at the arms talks "give us at least a reasonable degree of confidence that the current phase can be completed successfully by the end of this year."