ISLAMABAD -- Exiled former Prime Minister of Pakistan and leader of Pakistan Muslim League-Nawaz (PML-N) Nawaz Sharif was deported on Monday to Saudi Arabia hours after his return to Pakistan from seven years in exile.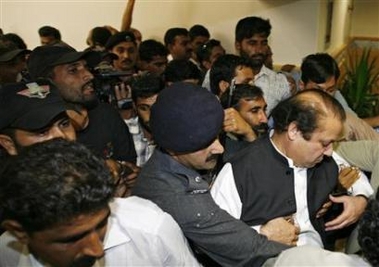 Former Pakistani Prime Minister Nawaz Sharif is arrested upon his arrival at Islamabad's airport, September 10, 2007. Then he was deported to Jeddah, Saudi Arabia, an intelligence official said. [Reuters]
Sharif has been put on an Airbus A310 plane of Pakistan International Airlines (PIA) and deported by the government to Saudi Arabia, the DAWN NEWS said.
Sharif's flight arrived at the airport on a flight from London early Monday morning. A high-level delegation of the government tried to negotiate with him, offering two choices: to be deported or jailed.
Sharif was later arrested by the police on corruption charges and taken away by a helicopter.
Saudi intelligence chief Prince Muqrin bin Abdul Aziz on Saturday urged Sharif to honor his exile agreement and not to return to Pakistan before completing 10 years.
However, Sharif said that his exile was only for five years and insisted on returning to Parkistan.
Sharif, twice elected as Prime Minister of Pakistan, served two non-consecutive terms. He was arrested and sentenced to life imprisonment in 2000 on charges of hijacking and terrorism after General Pervez Musharraf staged a bloodless coup in the country. The Pakistani government agreed to commute his sentence from life in prison to exile in Saudi Arabia for 10 years.