TOKYO - Most Asian stocks fell sharply on Monday, dragged down by heavy losses on Wall Street after a surprise drop in US payrolls sparking fears the world's largest economy may be heading for recession, dealers said.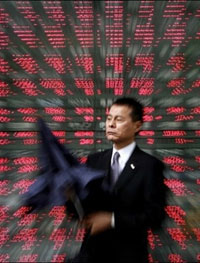 A Japanese businessman walks past a share prices board in Tokyo 10 Sept. Asian stocks fell sharply Monday, dragged down by heavy losses on Wall Street after a surprise drop in US payrolls sparked fears the world's largest economy may be heading for recession, dealers said. [AFP]
Investors are now pinning their hopes on a US Federal Reserve interest rate cut to shield the economy from the fallout from the housing slump, they added.
Asian stocks suffered a heavy selloff after US and European markets were rattled by news that the US economy lost 4,000 payroll jobs in August, the first decline in four years and far below market expectations.
Adding to the jitters about the health of the global economy, Japan said its economy shrank by 0.3 percent in the three months to June from the previous quarter as firms cut spending on new factories and equipment.

The Nikkei 225 Stock Average closed down 357.19 points or 2.2 percent at 15,764.97, with exporter shares being particularly hard hit.
Elsewhere, Seoul gave up 2.6 percent as the KOSPI index closed down 49.03 points to 1,835.87. Manila declined 1.6 percent while Kuala Lumpur and Jakarta both slid 1.4 percent.
However, Chinese stocks recovered from early losses Monday, helped by strong buying of railways and gold mining shares.
The benchmark Shanghai Composite Index gained 78.11 points, or 1.5 percent, to 5,355.29. The Shenzhen Composite Index rose 1.5 percent to 1,479.12.
"Volatility in the market will likely be high on expectations another interest rate hike may happen in coming weeks following the August consumer price figures," said Chen Huiqin, an analyst at Huatai Securities.
Benchmarks also rose in Hong Kong. The Hang Seng Index edged up 17.09 points, or 0.07 percent, to close below the 24,000 level at 23,999.70 Monday, after falling 1.7 percent in early trade.
In Hong Kong most shares "were under selling pressure after Wall Street's sharp falls last Friday and on concerns over the health of the US economy," said Kitty Chan, director at Celestial Asia Securities Holdings.
"US employment has been growing for the past four years so the fall was pretty scary," said Hirokazu Fujiki, equity strategist at Okasan Securities.
"At the same time what is supporting stocks is expectations for a cut to the Fed funds rate on September 18. Investors are waiting ahead of developments in the United States. That's why there wasn't a shock selloff," he added.
The Dow Jones index lost 1.9 percent Friday after markets took fright at the drop in payroll jobs in the US economy.
The report stoked fears of a US recession, despite assurances from the Fed that the economy was holding to a modest growth rate and that the slump in housing had been contained, dealers said.
"The US employment data reinforced investor uncertainties about the future course of the US economy on top of ongoing worries about subprime loans," said Katsuhiko Hiroshige, a market analyst at Traders & Co.
Investors hope that the US can avert a recession if the Fed acts swiftly and aggressively to lower borrowing costs, which could help ease the housing crisis and the credit squeeze. The federal funds rate now stands at 5.25 percent.
The dollar fell below 113 yen for the first time in about three weeks, dropping to 112.75 in Tokyo morning trade, down from 113.47 in New York late on Friday when the weak US jobs data had sent the greenback skidding lower.