ISLAMABAD -- Exiled former Prime Minister of Pakistan and leader of Pakistan Muslim League-Nawaz (PML-N) Nawaz Sharif was arrested after returning to the country on Monday, a local TV channel DAWN NEWS reported.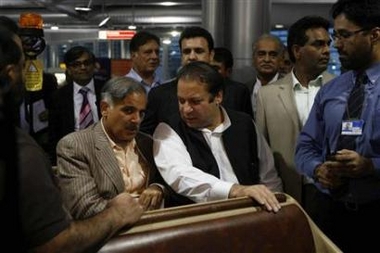 Nawaz Sharif (centre R), the exiled former prime minister of Pakistan, speaks to his brother Shahbaz as he prepares to board a flight from London to Islamabad September 9, 2007. [Reuters]
Sharif was taken out of the airport and transferred in a helicopter to an unknown place, the DAWN NEWS report said, adding that he was shown an arrest warrant for corruption charges.
A high-level delegation of the government tried to negotiate with Sharif after his arrival, offering him two choices: to be deported or jailed.
The government still has not ruled out the possibility of deporting Sharif.
PML-N has filed a petition in the Supreme Court, asking it to order the government not to deport Sharif.
The Supreme Court ruled in a verdict that Nawaz Sharif and his family were allowed to come back to Pakistan and take part in political activities on August 23.
However, the Attorney General Malik Muhammad Qayyum warned one day later that Sharif would possibly be arrested on arrival. A special court approved the appeal of National Accountability Bureau (NAB) to reopen three corruption cases against Sharif and some of his family members last month.
Sharif has repeatedly expressed his willingness to return regardless of the arrest warning.