DAMASCUS - Syria accused Israel of bombing its territory on Thursday and said it could respond to its neighbor's "aggression and treachery."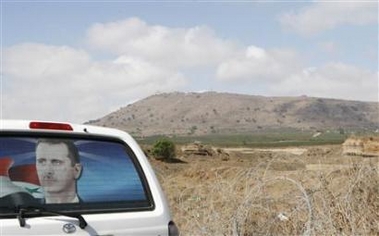 A Syrian car with a poster of Syrian President Bashara al-Assad parks opposite an Israeli military post on the occupied Golan Heights September 6, 2007. [Reuters]
Israel refused all comment on the report, which said no casualties or damage were caused.
Oil prices were up more than $1.40 a barrel, in part on concerns over the reported attack.
After months in which talk of reviving long-stalled peace negotiations has been mixed with speculation on both sides that the other was preparing a surprise attack, Syrian officials hit out.
"This shows that Israel cannot give up aggression and treachery," Syrian Information Minister Mohsen Bilal told al-Jazeera television.
Another Syrian official said: "They dropped bombs on an empty area while our air defenses were firing heavily at them."
The Israeli military spokesman's office said in a statement: "It is not our custom to respond to these kinds of reports."
The office has typically commented on such reports, but a security source said the government had imposed a news blackout on the issue. A spokeswoman for Prime Minister Ehud Olmert also said there would be no comment beyond the military statement.
The White House also declined comment.
It is over a year since Syrian guns opened fire on Israeli aircraft and Israeli jets last struck in 2003 across a border that remains tense but largely quiet 34 years after the last war between the two neighbors ended in an edgy ceasefire.
Military analysts said Israel has conducted reconnaissance flights over Syria to probe its defenses. One suggested that an aircraft may have run into technical problems.
Turkish and Israeli officials denied a report from an Israeli military source that the Israeli air force had trained in friendly Turkey as recently as this week. The last exercises had concluded last month, officials in Ankara said.
"Infiltration"
The Syrian official news agency SANA said Israeli aircraft "infiltrated Syrian airspace through the northern border coming from the direction of the Mediterranean and headed towards northeastern territory, breaking the sound barrier."
"The Syrian Arab Republic warns the government of the Israeli enemy and reserves the right to respond according to what it sees fit," SANA added.
Local residents said they heard the sound of five planes or more above Tal al-Abiad area on Syria's border with Turkey, about 160 km (100 miles) north of the Syrian city of Rakka.
Tensions between the two neighbors have been high in recent months. Some Israeli intelligence officials have suggested President Bashar al-Assad's administration might be ready to try to take by force parts of the Golan Heights, which Israel captured in the war of 1967 and held on to in fighting in 1973.
Syrian officials have said Syria was seeking peaceful means to liberate the territory, although some have also indicated that force remained an option if diplomacy failed.
Olmert, who launched his forces against Syrian-allied Hezbollah guerrillas in Lebanon a year ago, has been at pains to say he has no hostile intentions toward Damascus.
Some Israeli military officials have expressed alarm at what they say are reinforcements of Syrian positions and arms purchases. But Olmert has spoken out against alarmist comments.
He has also said he would like to reopen peace negotiations that have been stalled for seven years. Syrian officials, too, have said they would like peace. But there has been little sign of any concrete steps towards rapprochement.
Syria last said it fired at Israeli warplanes in June 2006, when Israeli aircraft buzzed a Syrian presidential palace.
Israeli officials said at the time the flyover was a message to cease support for Hamas after the Palestinian militant group abducted an Israeli soldier.
Israel has long warned Syria to stop supporting militant Palestinian groups and the Lebanese movement Hezbollah.
Israeli jets bombed an empty Palestinian militant training camp in Syria in October 2003.